The future of pharma working practices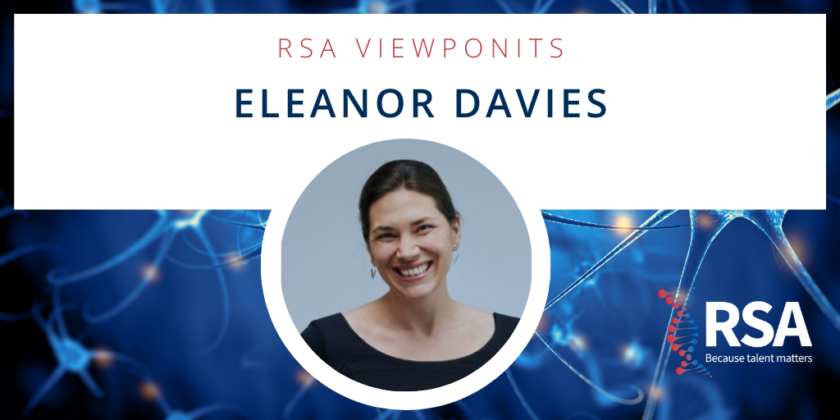 The COVID-19 pandemic has led to fundamental changes in the way we work. The sudden shift to remote working has created an unprecedented opportunity to reimagine how we do our jobs and how we run our companies, but it has also created new challenges for many sectors, including the life sciences. How has remote working changed the culture in pharma? What will future working environments and practices look like?
I joined a panel discussion at Pharma Integrates 2021, facilitated by Kath Mackay, Managing Director at Bruntwood SciTech, to explore these important questions. I was joined by a great group of panellists, including Nicola Massey, Senior Country Manager at Vertex UK & Ireland, Jo Mason, R&D Director at Yourgene Health, and Glen Crocker, Senior Consultant and Executive Director at JLL and We are Pioneer. They shared some perceptive observations about evolving working practices in pharma, as well as corroborating a great deal of the insight my colleagues and I at RSA are gleaning from our conversations at every level of leadership in the Life Sciences and Healthcare industry.
The session opened with a discussion of the ways in which the pandemic has created opportunities to try new things and invest in new technologies. Jo Mason commented that Yourgene Health has invested in new automated IT systems and software and brought in collaboration and project management tools to reduce time spent on calls and emails. These initiatives improved employee engagement and productivity, and the company plans to continue using them beyond the pandemic. Many organisations have also developed new strategies to maintain a sense of connectivity and ensure employee wellbeing. Nicola Massey explained that Vertex has adopted 'Wellness Wednesdays,' where employees are encouraged to take time out for wellness activities, and 'Zoom-free Fridays' to give people a break from online meetings; the latter idea in particular generated a fair few applause emojis in the chat box.
Despite the efforts of companies like Vertex, there's no question that blurred work-life boundaries and concerns about the health and wellbeing of friends, colleagues and family members have led to burnout and stress. These pressures have been intensified for leaders who have had to find innovative ways to manage their teams from a distance. What we have seen at The RSA Group, with our clients who are outperforming the market, as well as in our candidates who are ready to make a move, is that the most successful leaders have proved to be those who understand the personal challenges their team members are facing – whether that be working from home while looking after children, struggling with isolation and loneliness, or not having access to adequate technology. Managers who lead with empathy maintain a culture of inclusion. Decision making, problem solving, and communication are key.
The panel agreed that trust and flexibility have also been important factors for successful remote working. With people working off site, it is much more difficult to monitor them every minute of the day, but this can be empowering for both employers and employees. As long as the work is completed to deadlines and to a high standard, it shouldn't matter how or when people do it, and we maintain that if a manager is looking for proof that their team is working, then they have neither set and communicated the right deliverables, nor created the right measures of output. The best leaders are those who can motivate their team and hold them accountable to deliver but then take a step back and trust them to get it done.
The pandemic has also changed the culture for hiring. Particularly in the last few months, I have seen candidates feeling more powerful and being more assertive about what they want, both in terms of financial reward, and working environment. Employers have had to step up and demonstrate real alignment with and respect for candidates' motivations, both extrinsic and intrinsic, rather than pay lip-service to values and ideals, or make tokenistic changes. Different job functions and different generations have varied views and expectations about the ratio of in-office time versus remote working, but a key trend to emerge across all demographics has been the importance of motivation and morale; employees want to be valued as individuals and not treated as cogs in a machine.
Looking forward, the panel agreed that building and maintaining positive working environments will be increasingly important. Companies that want to encourage people to return to the office will need to invest in resources and activities such as gyms, yoga classes and communal areas to make the workplace attractive again. With many people coming into the office part time, companies can seize the chance to rethink the way they use their space, although opinion was divided on the panel. Glen Crocker suggested that in the future, there will be less need for individual office spaces, and more demand for open plan areas and collaborative spaces to allow people to embrace the kinds of informal discussions and chance encounters that are hard to re-create remotely. Others noted that while we would be fools to waste the opportunity to be more efficient and cost-effective with the way that we work, organisations should consider carefully what employees value before they rush to a hot-desk model, since there is data to suggest that for some employees the depersonalisation of their office environment can be deeply demoralising. The big challenge – quite apart from the fact that none of the panel has yet seen a hybrid meeting work effectively! – will be to ensure that people who choose to continue working from home are not excluded from the important conversations and decision making that happens beyond the VC screen.
The pharma sector has proved that it can be flexible and adaptable during a crisis. Now it is time to reflect on the past two years and consider what has worked well and what to take forwards into the new business as usual… and whether business will ever be 'usual' again.
If you would like to continue the conversation on this topic or related issues, please do contact me at Eleanor.Davies@theRSAgroup.com. If you are planning to attend the 40th Annual JP Morgan Healthcare Conference in January 2022 drop me a line to meet up.