Growing The RSA Group Talent Acquisition team | An interview with Christian Simon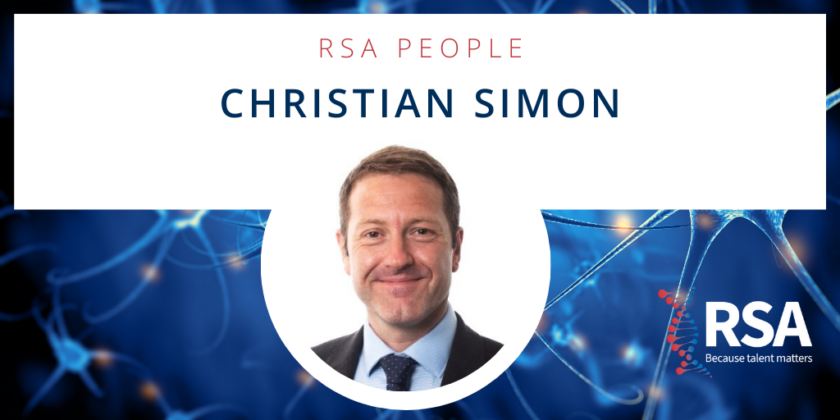 What is your role at RSA and what motivates you to do what you do?
I'm head of Talent Acquisition at The RSA Group. I manage a dynamic team of researchers whose job is to search for top talent in the life sciences sector to meet our clients' specific requirements. The researchers map the market, prepare and engage a long list and procure candidates for full interviews. The RSA Delivery and Senior Consultants then take the search to the next stage.
I moved into the pharmaceutical industry about fifteen years ago, and I've never looked back. I'm motivated by the opportunity to engage with individuals who are working right at the forefront of innovation in life sciences. To be able to work with people and organisations who are contributing to improving healthcare and wellbeing for us all, as well as developing treatments for specific areas of unmet medical need including rare diseases, is extremely rewarding. At the individual level, being able to make the perfect match for a candidate, helping them make a career changing move and then seeing that person grow and develop in their new role is very fulfilling.
Tell us about the Talent Acquisition Team, how it was formed and how it functions
Since I joined RSA in January 2020, we have grown the Talent Acquisition team throughout the pandemic and have potential to continue expanding over the coming months. As more and more life science and healthcare organisations are moving forward with plans that were put on hold during the peak of the pandemic, we're seeing a huge demand for talent in the life sciences sector right now.
We developed the title of "Talent Acquisition" as an umbrella term to encompass all elements on the candidate side of the search, and to provide familiarity for our clients who use similar terms within their in-house recruitment teams. The team works in partnership with the Senior Consultants throughout the search process, from business development right through to delivering a shortlist of quality candidates to the client. Being candidate facing, our researchers pick up useful insights into patterns and insights within the industry that can support the work of team members in other departments across RSA.
Growing the team during the pandemic has been challenging and, like many businesses around the world, we have navigated our way through doing things virtually. Although you miss out on the spontaneous ideas and conversations that occur more easily in person, we have worked hard to make the distances seem small and to ensure that everyone in the team feels accounted for. I regularly check in with individual members of my team to ensure that everyone receives the support they need to keep working and contributing. I'm incredibly grateful for the hard work that everyone has put in over the past 18 months.
What does the role of a Researcher at RSA involve and what opportunities are there for someone considering joining you?
When a new researcher joins us, we give them the opportunity to work across a wide range of different roles and sectors. In this way, we provide them with the broad experience required to become a competent senior level researcher. For example, researchers may work on a diverse array of roles including Chief Medical Officers, Chief Scientific Officers, General Managers, VP Medical Affairs and VP Translational Research, across a range of different projects. Our researchers also have the chance to work with clients all over the world, from Germany to Mexico to Singapore. This allows them to strengthen their ability to communicate across different regions, countries and cultures.
We tend to look at the individual's experience, skills and interests and match them to areas where we think they would be most successful. But we're responsive and flexible, and we are open to helping people to gain experience in the areas of the business they're most interested in. If a researcher has the passion and motivation to become a Delivery Consultant, then we can help them to achieve that. If somebody wants to work in Business Development, then the Talent Acquisition team offers the perfect place to start.
What kind of people do you look for when building your team?
We look for bright, ambitious, and proactive individuals who are quick to learn, and who embrace challenges as an opportunity to grow. Crucially, I look for people who have a genuine passion for the life sciences and healthcare industry. This sector is quite different to other sectors and has its quirks, so we want to know what motivates the person and why they want to work in this field. We also look for people who are good at communicating and networking. Our candidates often become clients in the future, so building and maintaining strong relationships is a crucial element of the job.
What's the best thing about working at The RSA Group?
The best thing about working at RSA is the variety of roles and projects and the opportunity to pursue work that genuinely interests you. I also appreciate the flexibility and freedom that we're granted by the management team to express ourselves and to be creative and innovative. The RSA Group is very conscious of the need to create an inclusive environment, and everyone has a legitimate chance to have their voice heard.
If someone wants to apply for a role in your team, what should they do?
I would encourage anybody who is interested in working as a researcher at RSA to get in touch with me, or a member of the management team. Picking up the phone or sending an introductory email is a great way to connect. Feel free to reach out and let's have a conversation – even if we don't have any open vacancies, I'm always happy to speak to people who are interested in what we do and to provide advice and perspectives on the industry.
What are your thoughts? I'd love to hear them. Contact me here if you'd like to know more about my experiences.