Inside the Minds of People at the Cutting Edge of Life Science: How Great Leaders Think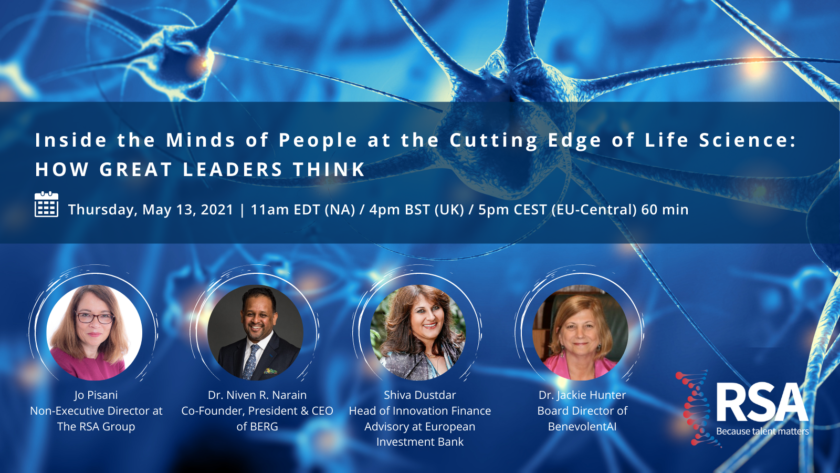 Upcoming Webinar, free to attend
We are excited to announce that our first Inspiring Leaders webinar will take place Thursday 13th May at 4pm BST. The event will feature an online panel discussion and live Q&A with inspirational leaders who are driving progress in the life sciences. You can register to attend the event for free here.
These incredible leaders have shared their insights with us and we have been blown away by their wisdom, perspectives and life stories. Now, we are able to share these with you first-hand.
Participants will hear from four distinguished industry leaders with inspiring stories. They will share insights on the experiences, people and decisions that shaped their careers, talking about what constitutes great leadership and how that contributes to innovative, breakthrough science.
Speakers
Jo Pisani, Non-Executive Director, The RSA Group
Niven R Narain, Co-founder, President & CEO, BERG
Shiva Dustdar, Head of Division, Innovation Finance Advisory for the European Investment Bank
Jackie Hunter, Board Director BenevolentAI
Full speaker biographies can be viewed here
What You Will Learn
In this webinar, participants will gain:
Advice from the experts on what good, effective, inclusive leadership means
How to achieve this leadership and the mindset needed to lead well
Insights on building resilience, facing adversity, embracing your differences and being confident
An understanding of why diversity is vital to success
Golden nuggets of advice that leaders from any industry sector would gain incredible value from
Register for this webinar for a rich and personal discussion covering a wealth of topics essential to our society today, including how to encourage more women to work in the life sciences industry, the essence of good leadership, the strength of diversity in business, organizational culture, building an empowered organization and more.