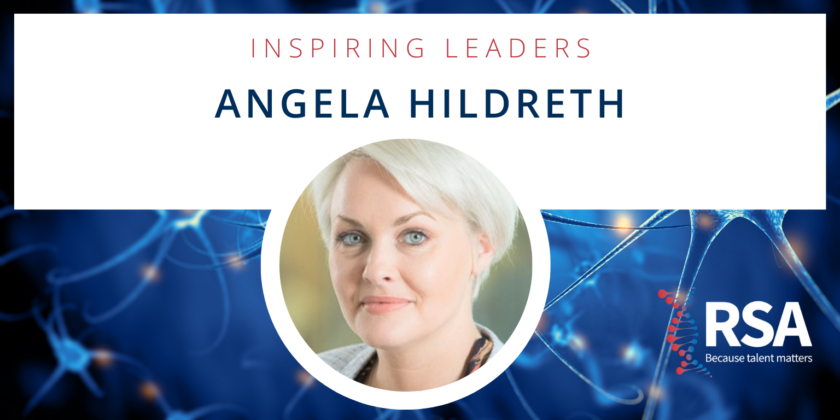 Our next story in the Inspiring Leaders series comes from the phenomenal Angela Hildreth, Finance Director and Chief Operating Officer at Futura Medical. We were honoured to hear about her journey and thoughts on building resilience, facing adversity, embracing your differences and being confident. Enjoy and feel free to share.
Are you born a leader?
I don't think people are born leaders, but they may possess certain traits that make them more suited to a leadership role. I was always a wilful child (a little bossy even!), probably because I was the oldest, and I've always been very single-minded. When I was 15 and still at school, I had 3 jobs and when I was at college, I had a part time job over the weekend and did promotional work. Coming from a poor, single parent family was a driver for me to be able to provide what I needed for myself, and I was never scared to work hard for it. I think much of my work ethic was influenced by my grandfather who was a miner and, as they say up north, a real grafter. I often say to my son that most things worth having or achieving take hard work and you get more out of it when you know you have put 100% in. I want him to believe that he can achieve anything he sets his mind to. Dream to believe.
Influences on leadership style
Due to family circumstances I took a protector role when I was young which has helped to shape my leadership style. As well as a desire to protect, I am also driven by solving problems. Being a natural problem solver helps give me purpose and influences the way I lead.
It is important to question what is driving the decision you are making, particularly if it is one that may be unpopular with others. Is it driven by insecurity, are you in search of validation? Do you feel the need to be the one solving the problem? This could make you dismissive of alternative solutions because you are not listening to others. Self-awareness helps. We had coaching as a leadership team at a point when our company was going through a lot of change and, although I questioned it at the time, I can now appreciate how effective it was. Understanding ourselves helps to drive how we behave.
People at all levels of an organisation can be leaders
The big question is, what is leadership? It can mean different things to different people. We all have diverse reasons for wanting to progress and lead and it is not always in the form of a job title. Companies do need structure and organigrams, but it is important to recognise that people at all levels of an organisation can be leaders of some sort.
Have a plan but keep your roadmap flexible
I did my A Levels and planned on attending university to do a Biomedical Sciences Degree, but my desire to get a job pulled hard and I decided to take a year out to work as a receptionist in a car dealership. My life shifted a gear and I didn't look back, I worked my way up in different companies, taking on opportunities with no concrete plan but with the certainty that this journey was the right one for me.
My real introduction to life sciences began at the birth of Shield Therapeutics and my 7-year journey there was incredible. Once funding was secured it was a case of seatbelts on and let's go! Being there from start-up, navigating through all the different investment stages, raising money, lifting it and commercialising a product, was fantastic, and working alongside incredible people such as the CEO and the CFO made the whole experience even more enriching.
Now, even though I am still in a financial role it is life sciences that I am wedded to. I enjoy all the different facets of the sector – the development, the commercialisation – it is dynamic, and you meet so many amazing people.
I'd say for those looking to progress in their careers, having a rigid plan can often hinder your journey. Listen well to those who believe in you and give you opportunities. Have a plan but be flexible and listen to others when they say you can do it. Keep your professional relationships strong and if you move on, make sure you leave on good terms.
Mentors play a vital role
I think time is the most important component of a mentorship role, whether that be to help teach new skills, provide constructive feedback, listen or create space and opportunities for a person to grow. As a leader it is important to recognise that you can learn from anyone at any level in the business. If you are creating an environment where people can have the right type of conversations, everyday can be surprising even at the highest levels.
We take our influences and motivations from all sorts of places; everyone has the potential to be inspiring and be inspired. When I have people that I am responsible for leading I make sure that I am someone that inspires them. For me, attitude contributes more to success than experience; I had a PA years ago with such an incredibly positive attitude who grew in confidence and went on to run her own successful business. She now leads and inspires others and it is great to think that I was a positive influence in helping her to get there.
Diversity – it's about embracing your differences
Diversity tends to be focused on gender and race, but it is much more than that. I faced more challenges in my career as a result of my background than my gender which made me more comfortable fighting my corner as a woman. Changing the mindset of leaders to understand what diversity really means can help to change their perceptions. What leaders should be saying is 'we need more balance on the board', or 'we need more emotional intelligence on the board' and then look for people, male or female that fulfil those needs.
I think if you embrace your differences as a leadership team you can be very effective. My current CEO and I work so well together because we come from two completely different backgrounds, gender and generations. We have so many conversations that we would not have, and we can find solutions to many problems that we would not be able to find, if we were the same. There is a recognition of differences and a mutual respect which contributes to a very successful and enjoyable working relationship.
Stand up for yourself and be confident
Early in my career I was faced with a level of discrimination that, even back then, was difficult to comprehend. I was suspended from a job in Newcastle for being pregnant and was told that they could not accommodate me in 'this situation' and, until I decided what I was going to do about it, I would be let go. I stood my ground and fought them in the courts, and, using a team of students from Northumbria University, we beat them. The outcome was a damning report for them and open doors to the legal world for the two students who helped my case, one of them being granted an internship in a high-profile law firm. It taught me the importance of standing up for yourself. Since then I have endeavoured to face any challenge with strength and resolution.
If you are confident in your ability, let your work speak for itself and stand your ground, you can go far as a leader. Whilst I don't profess to be an expert on US politics or agree with all her policies, Kamala Harris does this incredibly well, her intelligence, flair and eloquence are very impressive.
Recognise the opportunities and work hard
A lot of my success is a mixture of luck and hard work. I have been lucky to meet the people I have met; been given opportunities and I have proved myself through hard work. If you have the judgement to know which opportunities to take and the confidence to push yourself beyond your comfort zone, you can achieve anything.
Follow our LinkedIn Page to keep up to date with the full Inspiring Leaders Series.