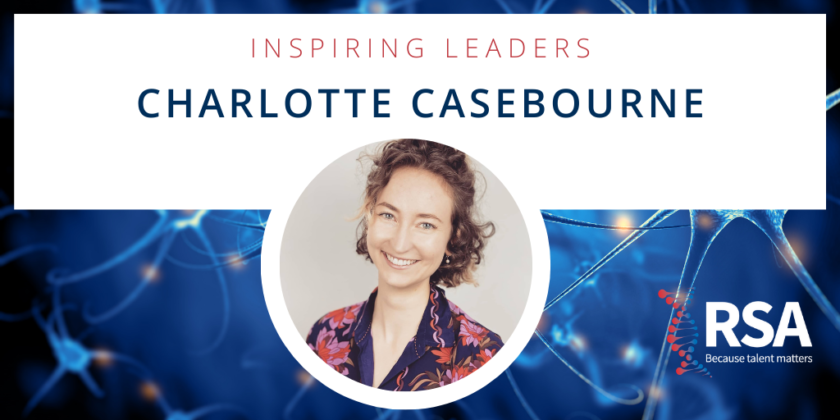 Charlotte Casebourne is the co-founder and CEO of Theolytics, a company that quickly develops oncolytic (cancer-killing) viruses. Since spinning out of the University of Oxford in 2017 her company has raised more than $10 million in funding. They are currently working on their lead candidate, a virus to kill ovarian cancer.
Charlotte believes in equitable access to effective therapies. In addition to her role with Theolytics, she is a Board Member of the UK BioIndustry Association. She has also been recently named one of In Vivo's 20 Rising Leaders in Life Sciences as well as being featured in Forbes 30 under 30 in 2021 and one of 50 Female Entrepreneurs to Watch in the UK | 2021 & Beyond by Beauhurst Data.
Previously with New Medicine Partners, Charlotte is an entrepreneur with international leadership, operational and management experience. She has worked with government ministries, national funding bodies and research institutes to transform life science technologies into commercially viable products. She previously held leadership roles with the WEF Global Shapers Network; HealthTech Women; and Hello Tomorrow.
Charlotte graduated as a University of Cambridge Bioscience Enterprise M.Phil Scholar and was a shortlisted finalist for Cambridge Entrepreneur of the Year. With such an impressive record and recognition already, Charlotte is taking the Life Science industry by storm. We are utterly delighted that she was able to spend some time with us to talk about what inspired her, her thoughts on leadership and how she ended up being CEO of such an innovative, forward thinking company.
Leadership – an enabling art
Leadership starts with taking responsibility for a cause that is greater than ourselves. It is an enabling art – the art of realising people's talent and potential as we come together to contribute to that chosen cause.
I have an innate curiosity about people and problems, and that has certainly guided me in my journey. In terms of learned skills, a few that come to mind include: the ability to drive decision making; to communicate your vision; to release control, whilst retaining accountability; to provide directionality (even in ambiguity); and to create and protect a space in which people can contribute their best work.
No one is perfect first time around (often not second or third time either)! There are always skills that we can improve, and the road to mastery lasts a lifetime.
You can't over-engineer your career path; there has to be space for serendipity
My grandmother died when I was 7 years old, and I became curious about how our bodies work – specifically how we can improve our ability to heal when things go wrong. Saying that, it took a while for me to find a path that felt right, and a significant amount of trial and error!
Initially I thought I wanted to be a doctor, but when I didn't get a place at university – and once I'd got over my conviction that my entire life was a failure – I decided to study biomedical science instead. Laughable now, but it certainly felt like the world was ending at the time! During my undergraduate degree I worked in cancer wards in our local hospital; this became my area of focus. I wanted to understand how new cancer therapies are developed – how they work, where they work, and also where our current medicines are not good enough. I knew that I believed in a world in which everyone had access to the healthcare that they needed to thrive.
Despite that clarity, it didn't feel like there was a clear next career step, so I joined a friend who was travelling through South America for a while and reviewed my options. It was useful to be in a totally different context, and out of the comfortingly sequential and straightforward education system. I found a renewed appreciation for learning outside of the constraints of a curriculum, and was exposed to new cultures, people and perspectives. We played a game as we travelled between hostels and countries, trying on different identities when we introduced ourselves to see if we could find one that felt right (trainee IP lawyer, consultant, PhD student to name but a few). Whilst fun, I'm disappointed to report that neither of us were able to take a decision on our futures simply by 'acting' it.
In the end, after returning to the UK, a pretty extensive google search and a few (more) existential moments, I found a post-graduate course at Cambridge which was divided between the business school and the biotech department. It was titled 'biotech enterprise', and it was perfect. I applied, and in parallel got a job managing a cricket club and the team of 20 or so bar/kitchen staff and groundskeepers to save enough money for the tuition. Ultimately, I was lucky to be offered both a place, and a scholarship; I found my stepping stone into the biotech industry.
On finishing, I set up a company to work on projects with government ministries, funding bodies and academic institutes spanning three continents, to support the translational development of early-stage life science technologies. This ultimately didn't work out (which is a whole conversation in itself), but I ended up meeting the scientists behind Theolytics' technology in 2017, and we hit it off immediately. We co-founded the company that same year and have been building a team on a mission to harness viruses to fight cancer ever since. It's an honour to be a part of a sector committed to providing life-saving medicines for patients, and I do my best to support our ecosystem through my board role with the BioIndustry Association.
I'm a planner, so it kills me to say this, but you can't over-engineer your path; there has to be space for serendipity. My experience has been that when something feels right, it usually is. I certainly didn't set out on a mission to be a biotech CEO.
Your capacity can often far exceed what you believe might be possible if you take on the challenge
Growing up, I was first a dancer, and then a rower, competing nationally to achieve two gold medals by the time I was 18. Surrounded by athletes, I was inspired to push the boundaries of what I was physically and mentally capable of. I learnt that my capacity often far exceeded what I believed might be possible. I learnt that performance comes in cycles – a rhythm of stress and recovery. I learnt (the hard way) that attempting to sustain peak performance indefinitely leads to injury, and it was exposure to what a high-performance team feels like under pressure.
Above all, the greatest gift that the sport provided me with was the confidence to lean into challenge. We can't be afraid to ask people to overachieve in service of a meaningful cause. Setting and striving for ambitious goals allows us to surprise even ourselves sometimes.
Different leaders will thrive in different situations
When you're leading a team combining multiple specialisms to develop a breakthrough technology, you need to be able to learn quickly, to pull brilliant people in around you, and to synthesise that knowledge, and those perspectives to take timely decisions. Sometimes in the face of ambiguity. Often with the recognition that there is no 'right' answer.
When you're starting a company in biotech, you don't take that journey because it's easy. We take that journey because we're solving an important problem, and often people's lives are at stake. There are long timelines involved, and a lot of resource is required. It takes a huge amount of endurance and commitment, but it's also immensely rewarding. Find a work-life rhythm that allows you to feel energised to contribute in a sustainable way. Have fun while you're doing it. Working on serious things does not mean that we have to shroud ourselves in seriousness.
Sometimes I find it useful to remind myself that everyone has to do something for the first time once.
When building a leadership team, remember that values provide a guiding compass in both crisis and success
We have to be willing to share what we stand for with the world, what we're creating, and why. This self-selects people aligned with your cause.
After that, I prioritise commitment and values above skills. Values provide a guiding compass in both crisis and success. Shared values allow for decision making by any individual within an organisation, and they are a foundation for trust. Specifically, I value collaboration – cohesion as a group enables us to have the collective resilience to navigate both the highs and the lows. Collective mission has to come before personal ego. I value candour – being reflective, being honest, being proactively transparent. I value curiosity – questioning and striving to understand from first principles.
If the commitment, and the common values are there, skills can be honed with conscious attention, strong feedback loops, practice and patience.
Moving away from an idea of perfect leadership towards being authentically me
I had an idea at the start of my CEO journey about what a leader should be. I thought that a leader should be omniscient and omnipotent – that they should know everything, and they should be all powerful. The more I strived to embody this 'ideal', the further I stepped away from what was authentically Charlotte. The more I clung to an idea of what leadership should be, the further I found myself from who I was, the greater my energy expenditure, and the less effective I ultimately think I was as a leader.
Stepping into the role of leader for me has been a lot about releasing my ideas of what a leader 'should' be, and finding a way that feels aligned with who I am. I guess the advice is to show up as yourself. If some people don't like the authentic 'you', then they are probably not the people that you want to work with!
When we are an outlier, a part of that role requires us to break stereotypes, and expectations. Embrace your differences as an advantage. Different means memorable, different means that you have a new perspective.
Success is about finding truth, even if it means failure
Our lives and our contributions are a continuous process of experimentation, learning and iteration by their very nature. I have taken on (and shed) different labels, felt lost, been disappointed, and 'failed' (in the conventional sense of the word). It is our responsibility as innovators to seek truth. Truth might be that a particular product is neither safe nor effective. Success is finding that out as quickly, and as resource efficiently as we can. It is about holding course – often over extended periods of time, with sustained but impatient optimism – during that process.
It is a gift to care deeply about a cause, and life is too short to undermine ourselves. If you want to do something, get out there and do it!
If you enjoyed this – do watch our Inspiring Leaders Webinar that we hosted in May. This 60 minute panel discussion offers unique insights on leadership and growth from industry leaders in the life sciences. Watch it here!