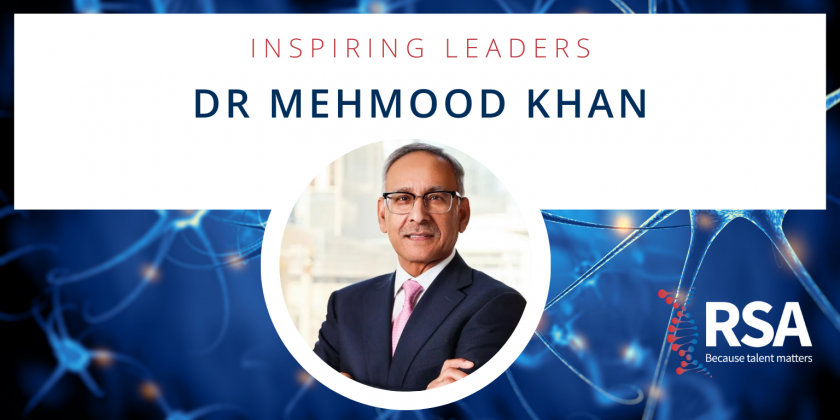 Dr Mehmood Khan is the CEO of Hevolution Foundation. He is also a pilot, physician, and a great believer in Michelangelo's wise words "I am always learning". Dr Khan previously served as the Chairman and CEO of Life Biosciences Inc., Vice Chairman and Chief Scientific Officer of Global Research & Development at PepsiCo, Inc., President of R&D for Takeda, and Mayo Clinic Endocrinologist. His service on numerous boards and committees includes Reckitt Benckiser, Indigo Agriculture, NIST & Spectrum Health. He is also the recipient of many awards, distinctions, and fellowships, including the Harvard University Illuminate Global Award for Innovation.
Dr Khan is credited with leading PepsiCo to become a leader in health-related innovation in the food industry, overseeing its global 'Performance with Purpose' sustainability agenda, building partnerships with global research universities, and transforming his all-male executive team to a 50:50 gender balance, as well as publicly encouraging females to pursue STEM studies.
We were privileged to spend some time with Dr Khan while he shared his thoughts and advice on effective leadership, including some fascinating stories from his own personal journey. The insights were so rich and enlightening that we have divided it into two parts. We hope you enjoy reading it as much as we enjoyed working with Dr Khan creating it!
Do you think the leadership journey is different or more challenging for women?
I had the chance to report into one of the most iconic female leaders in the world, by operating as Vice Chairman to Indra Nooyi, who was the CEO and Chair of PepsiCo. I've been blessed to have other incredible female mentors, and act as a mentor to talented female colleagues. In fact, I'm married to a strong woman. I've been very fortunate to have a front row seat to working with extremely passionate, intelligent, and successful women – which has made me better in my work as well.
The traits that establish a great leader are the same for men and women, but in my experience, women are heard less often. In environments I've worked in, more women were overlooked or spoken over when they shouldn't be. So, while not fair, my only piece of advice to female leaders would be to speak up and be assertive. Diversity and inclusion efforts have a long way to go, especially inclusion – which is the real action and behaviour to make workplaces more balanced. While we make strides to make that a reality, my strong recommendation is to be your own champion – there is no bigger advocate for a person than yourself.
But everyone in a leadership position bears this responsibility as well. Mentors must promote, champion, bring forward, and act, not only to recognise inappropriate behaviour, but to rectify it. And this extends beyond what we may perceive as obvious and egregious discrimination, but to pay attention to micro-aggressions, and where inappropriate behaviour exists subtly – such as speaking over someone. If unchecked, poor behaviour can be quickly accepted as the norm.  Inaction is the same thing as endorsement. You cannot allow that to happen.
What do you look for when building your teams?
Across the breadth of the team, I look for diversity of thought. Not diversity by appearance, gender, colour, or race, but of experience. The second is curiosity. When I interview people, I try to understand what drives their interest – because with curiosity, the aptitude to learn is there. There is a difference between intelligence and aptitude, intelligence is your inherent talent and ability to learn, aptitude is the ability to apply what you have learnt.
If you are looking to build your own leadership team, you should ask yourself when selecting your team – "can they influence others to deliver?" It's the difference between the individual performer and the team leader. You ultimately need both, people that will solve singular problems, and those that can bring the right mix of people together to solve larger, more complex issues.  As a leader, you need to not only reward them with promotion, but help develop their skills as they climb the ladder. Sometimes young people think development is this vertical movement but mentoring them through that growth path is the single most important job of a team leader. People are trusting you to influence their career and there is no bigger responsibility than that. Leaders who have the loyalty of their teams will get through the hard times and will come out of the other end successful. That's when you know that you've led these people. They will remember you as a teacher, as a mentor and as a leader.
What I'm most proud of in my career
If you look at the industry today, there are about a dozen c-suite executives at prominent organisations who either worked or trained under me. What I'm most proud of is that I've had an impact in their careers that have spurred them into successful leaders themselves. One of my trainees who worked for me for over 8 years called me recently, his greeting was "Hi boss! I've got to ask you a question." I replied, "Why are you calling me boss when you are a CEO now!", and he said, "Well, you are still my boss." Those are the things that mean more to me as a leader than anything.
Final words of advice – have conviction in your mission
Leadership is not a popularity contest, that's the difference between leadership and politics, and we sometimes confuse the two. Good leaders sometimes must make decisions based on what's right, not what's popular.
You must have conviction in what you are doing. It is important and impactful, even in the face of adversity and headwinds. I'll give you an example of that. Many years ago, back in the 90s, I was doing research on weight-loss drugs. They were a big business at the time, and I was a young professor. In our research, we found that these drugs were causing harm to the heart. Very few people believed this, and the pharmaceutical industry brought about legal action to stop my research. This made national and international news, and I went on to publish the papers, counter to dimensional thinking at the time, even though my findings were going to shut down my own grant and research program. I published them and then closed the programme, which was a tough choice for me as a young professor. It was the largest lawsuit in the history of the pharmaceutical industry. Conviction isn't easy, but it's necessary to be successful.
My final words of advice are that you should have conviction of your mission, even when there are a lot of people asking questions.
About HEVOLUTION FOUNDATION
Founded in the belief that every person has the right to live a longer, healthier life, Hevolution Foundation is a global catalyst, partner, and convener, on a mission to drive efforts to extend healthy human lifespan and understand the processes of aging. With a focus on aging as a treatable process, Hevolution Foundation aims to increase the number of aging-related treatments on the market, compress the timeline of drug development, and increase accessibility to therapeutics that extend healthy lifespan, also known as healthspan. A non-profit organization headquartered in Riyadh, with an annual budget of up to $1 Billion, Hevolution Foundation plans to open hubs in North America and other global locations to support a cutting-edge, global ecosystem of talent to propel aging and geroscience research forward and achieve medical breakthroughs to help humanity live healthier, longer.
Vision: To extend healthy lifespan for the benefit of all humanity
Mission: To drive efforts to extend healthy human lifespan and understand the processes of aging, leveraging a broad set of tools through diverse approaches.
Visit their website here to find out more about Hevolution Foundation.