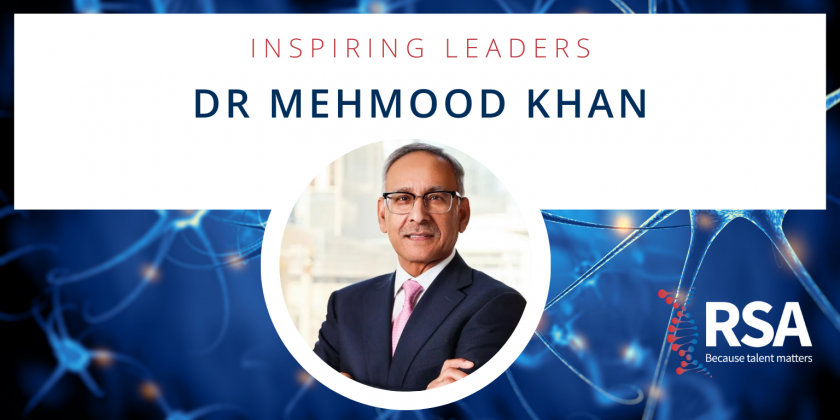 Dr Mehmood Khan is the CEO of Hevolution Foundation. He is also a pilot, physician, and a great believer in Michelangelo's wise words "I am always learning". Dr Khan previously served as the Chairman and CEO of Life Biosciences Inc., Vice Chairman and Chief Scientific Officer of Global Research & Development at PepsiCo, Inc., President of R&D for Takeda, and Mayo Clinic Endocrinologist. His service on numerous boards and committees includes Reckitt Benckiser, Indigo Agriculture, NIST & Spectrum Health. He is also the recipient of many awards, distinctions, and fellowships, including the Harvard University Illuminate Global Award for Innovation.
Dr Khan is credited with leading PepsiCo to become a leader in health-related innovation in the food industry, overseeing its global 'Performance with Purpose' sustainability agenda, building partnerships with global research universities, and transforming his all-male executive team to a 50:50 gender balance, as well as publicly encouraging females to pursue STEM studies.
We were privileged to spend some time with Dr Khan while he shared his thoughts and advice on effective leadership, including some fascinating stories from his own personal journey. The insights were so rich and enlightening that we have divided it into two parts. We hope you enjoy reading it as much as we enjoyed working with Dr Khan creating it!
PART ONE
People choose leaders, leaders don't choose themselves
My long-held perspective on leadership is one most people aren't used to hearing. I don't think a person can choose to be a leader. It makes a good story to believe there is a certain point in time, or a defining moment, where someone just decides to lead, and then does. But I think in everyday life, it happens organically. Leadership is often defined by situations during which people, whether you know them or not, believe in your philosophy and choose to follow you. Put simply, it's a reaction, not an action – which many aspiring leaders tend to forget.
So, if you are striving to be an impactful leader, the question to ask yourself is "what will inspire others to follow me?" Whatever answer you determine – go and put that into practice, every single day. People will be inspired because of your beliefs, values, mission, actions, and track record. What achievements and deliverables others find important may not always align with our own, but they will be critical in attracting like-minded individuals.
Influences and inspirations
I didn't start my life wanting to become a leader, I just knew I wanted to make a difference in someone else's life. I believe this desire grew from how my mother raised me. While my father was more traditional and a focused engineer, my mom inspired us to think about our role in the family and in the world. That encouragement from my mother has been the biggest influence in my career.
Be different and curious
I had the privilege of growing up in an immigrant home in England, allowing me to be exposed to a culture other than our family's own. But England was different then, and being the only Pakistani child in my neighbourhood, I was a minority. When you grow up in an environment where it is obvious you are different, what you experience and learn can be challenging. You learn resilience, you know who you are, you know your place, you know your colour and you learn to move past that. Living in a culture that on the one hand was discriminatory, but on the other hand provided great teachers who took the opportunity to teach me, was very inspiring.
Even after medical school, I didn't take the traditional route. After finishing medical training, I went on to study food science, nutrition, and agriculture. Nowadays, the link between food and health is clear and inarguable, but it wasn't back then. However, I was also interested in exploring beyond, what were considered then, traditional ideas to identify new and exciting areas of study. The lesson here is to remain curious, and challenge traditional camps of thinking. Bringing diversity to your experience and surmounting new challenges will only help strengthen the skills you'll eventually need as an effective leader.
Mentors
All my life, I've encountered mentors that motivated me to do things I may not have done otherwise. In high school, a teacher prompted me to become Chairman of the High School Science Committee, and later a professor told me to apply to the Kellogg Foundation Scholarship, which brought me to the U.S. In both cases, I was pushed to do something that was outside of my comfort zone and was rewarded greatly in experience and opportunity because of it.
Mentors naturally reveal themselves by seeing something in you and believing in you, and each one teaches you something different. Even now in my 60s, I still have mentors, including my graduate school advisor from the University of Minnesota. Real mentors are part of your life journey. But aside from having mentors, we must also be them ourselves. I still proudly maintain relationships with people who have worked under my supervision for 20 plus years and offer them guidance as much as I can.
Surround yourself with smart and experienced people
My first leadership job was as a medical director, and the first time I would directly manage others. I made a lot of mistakes, but also learned from the very smart nurse directors and clinic directors in my orbit. It was an important lesson, that the essence of leadership is to surround yourself with not only smart, but also very experienced people. Over the years, as that clinic and our system grew, I also grew in my capabilities and became someone they could trust.
Lead from behind
People in junior positions may be hesitant to express opinions, but theirs are just as valuable. Great leaders know great ideas come from everywhere. Therefore, it is very important for a leader to invite everyone's opinions, particularly before they express their own. As someone in an authoritative position, if you have publicly taken a position on something, your team is more inclined to align with you versus sharing their own thoughts. There is a difference between leadership and being a subject matter expert. In fact, the more senior you become, you usually create more distance from the actual hands-on work. So, it is very important for a leader to promote conversation by inviting the opinion of their most junior team members first, followed by senior constituents, and then lastly yourself. It's not about ego, it's about having the best information at the table.
I call this leading from behind. The leader shouldn't position himself as the hero and take credit for the collective. There is in business a mindset that I call "hero culture," to which I am completely opposed. Hero culture applauds someone who saves everyone from disaster. Hero culture also fosters dependence – both on one person, and even on the problem that only they could solve. That kind of dependence isn't leadership, it doesn't lift teams up and it doesn't build strong organisations. Instead, great leadership should be about giving a team room to succeed, and problem solve – maybe avoiding the disaster in the first place – and then about celebrating their achievements.
Additionally, leaders exhibit accountability. I've always stood by the philosophy that you share the credit and take the blame. As a senior person, if something goes wrong, the responsibility rests on your shoulders. Don't point at others, but rather look at yourself and own the mistakes you've made, and you will earn the trust of those around you. Mistakes aren't the enemy, but rather, they are our teachers and will help us grow. Great leaders keep learning, and by embracing accountability, will be able to work with their teams to build resilience and successfully move beyond any roadblocks.
Leadership top tips
Have a curious mind – if you are not curious, you won't actively listen and understand. There is a difference between listening and truly hearing.
Turn your dream into a vision by being clear – the difference between a dream and a vision is that a dream is seen by one person and a vision is seen and shared by many.
Translate complexity into action – lots of people will talk about complexity, but the ability to translate it into action, to understand with clarity what the problem is and how to prioritise, is a different skill. Once you have that clarity, 80% of the problem is solved because then you can bring resources to bear on it. That's the most difficult thing that leaders need to do – bring clarity within that complexity.
About HEVOLUTION FOUNDATION
Founded in the belief that every person has the right to live a longer, healthier life, Hevolution Foundation is a global catalyst, partner, and convener, on a mission to drive efforts to extend healthy human lifespan and understand the processes of aging. With a focus on aging as a treatable process, Hevolution Foundation aims to increase the number of aging-related treatments on the market, compress the timeline of drug development, and increase accessibility to therapeutics that extend healthy lifespan, also known as healthspan. A non-profit organization headquartered in Riyadh, with an annual budget of up to $1 Billion, Hevolution Foundation plans to open hubs in North America and other global locations to support a cutting-edge, global ecosystem of talent to propel aging and geroscience research forward and achieve medical breakthroughs to help humanity live healthier, longer.
Vision: To extend healthy lifespan for the benefit of all humanity
Mission: To drive efforts to extend healthy human lifespan and understand the processes of aging, leveraging a broad set of tools through diverse approaches.
Visit their website here to find out more about Hevolution Foundation.