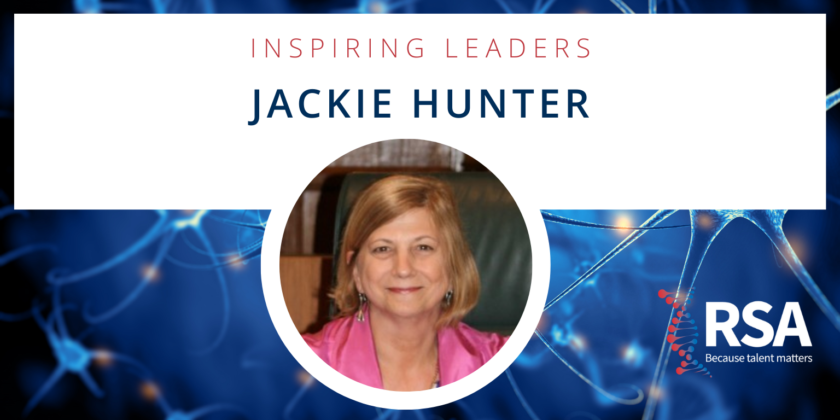 Jackie Hunter, PhD DSc CBE FBPharmacolS FMedSci, is a Board Director of BenevolentAI, which is applying its AI technology across the whole of Pharma R&D from target ID, through chemistry to patient stratification and clinical trials. Jackie has over thirty years of experience in the bioscience research sector, working across academia and industry, including leading neurology and gastrointestinal drug discovery and early clinical development for GlaxoSmithKline. She founded OI Pharma Partners in 2010 to support the life science sector in harnessing the power of open innovation and most recently was Chief Executive of the Biotechnology and Biological Sciences Research Council. She holds a personal chair from St George's Hospital Medical School, which was awarded in recognition of her contribution to bioscience research. In 2010 she was awarded a CBE in the Queen's Birthday Honours list for Services to the Pharmaceutical Industry.
We were honoured to hear first hand Jackie's inspirational story and advice about her career, inclusive leadership and mindset, whatever stage you are currently at in your career and life path, we can guarantee these words will resonate and inspire.
A career in science
Choosing to study science at school meant taking classes at a nearby boys' school. We were three girls among 700 boys and it certainly helped to prepare me for work in an industry dominated by men and it taught me to speak up when outnumbered. My science teacher at the time was inspirational, taking us to study rare flowers and to look around the Oxford science labs, cementing my decision to follow a career in science. Despite Careers Advice's lack of advice (!) I went on to study physiology and psychology.
My attitude to pursuing a career in science has always been to be open to opportunities that interest me, even if I can't see the direct relevance to my career at the time. In the summer before I started university, I volunteered at a local wildlife trust, simply because it interested me, which later helped me secure a PhD opportunity at London Zoo. Experiences like this can differentiate you from the crowd in an incredibly competitive sector – don't let them pass you by. That's not to say that these opportunities will all be plain sailing. During my PhD I lectured for the extra-mural department of London University. Having tackled the intimidating prospect of writing three terms of content, I embarked on my first lecture, only to have someone in the audience promptly turn off their tape recorder – not quite the desired reaction.
I wouldn't say I ever had a career plan; I had interests and went after what I thought would fulfil those interests. Once I reached more senior levels in the pharma industry, I began to think more strategically about my career primarily to make sure that I had options if things didn't work out. It's crucial to never put yourself in a position where you feel so bound to a company that you become stuck there, and remember that if you wake up thinking 'I don't want to go to work', it's time to go. This is especially true for women, who often feel they need 100% of the skills required to get a particular job, but in reality, you only need 60%, so take a chance – most men do!
As my friends and family will testify, I am an impulsive person and tend not to focus on the potential for failure, but rather press ahead and then look back at how difficult it was once I have arrived. This is key – try, even if you don't think you will succeed. We perhaps learn more from our failures than our successes!
Inspiring, leading and managing
There is a big difference between management and leadership. Management is about the organisation, process and operational excellence whereas to lead you need to set a clear purpose and mission. Management can be taught, whereas leadership, in my opinion, can be honed but not always learnt from scratch.
Certain personality types do lend themselves to leadership. This doesn't mean you need to be an extrovert and some of the best leaders I have come across are quite the opposite. However, it is important to have the courage to stick your neck out, do what is right but not necessarily easy, have vision and take risks.
I didn't set out to be a leader, rather I fell into it along the way – I would never have seen myself becoming an SVP at GSK when I was younger– but I have always liked to get things done. In fact, one of my biggest pet peeves is people who sit around, endlessly discussing issues without actually acting to sort them out!
In my experience, good leaders must be able to inspire people and they must know their own weaknesses. I myself am not a 'completer finisher', so I have always had people on my team who can pay attention to the final detail that is needed to really bring a project to fruition. Admit what you don't know, recognise your shortcomings and build a team accordingly. Importantly, don't back away from the difficult conversation when they are needed; no one finds these conversations easy, but learning how to deal with them comes with experience.
Also, never forget your team. You may have the vision, but your team are the ones who will do the implementing, so you need to have them onside. Set your vision and then bring people along with you, and don't feel you need to have all the answers.
Perception and reality
At the beginning of my career I had people I learned from, respected and admired, but I didn't have a sponsor or mentor as such. Later in my career I had the fortune to work with Molly Sheppard, an excellent executive coach, who taught me the importance of perception vs reality. For example, if you look a little dishevelled as a woman you are seen as not taking care of yourself and not professional whereas, as a man, you are simply seen as 'eccentric'. Similarly, the way you talk is incredibly important, and men and women talk differently. As a woman, you need to be aware of how you say things, not just what you say, and you need to be able to judge when to be assertive.
One of the ways people are assertive is talking over someone else in meetings. It was interesting that in some senior meetings within GSK that were predominately male, everyone talked over everyone else, yet it was only noticed by my then boss in me! Ultimately what made me change this behaviour was when someone pointed out it was actually disrespectful, as it demonstrated you were not listening to the person talking and because of this I made an effort to improve. Understanding what motivates people is key to good leadership and management.
In the same way, not giving feedback on a person's poor performance is disrespectful. You need to give that employee the required information to improve their performance – if they don't know they aren't preforming well or don't think they will be pulled up on it why would they change their behaviour? This will also help the entire team by ensuring everyone is pulling their weight.
Diversity and inclusion
Diversity is necessary across the board, including diversity of approach and leadership. We need equal opportunities for everyone, not just women, and we need all employees to be judged to the same standard. This is vital because:
Everyone needs to feel respected and have the opportunity to contribute
There is lots of evidence that diverse teams make better decisions
Talented scientists are choosing other professions because of the culture in the industry
The world is global, and we need to be able to work together, whatever our cultural backgrounds
We need to hold people accountable, and leaders need to call out bad behaviour when we see it. One effective way of doing this in my experience was to allocate annual bonuses based 50% on whether the employee had reached their targets and 50% on how they achieved them. If a manager achieved his/her targets but did it through poor behaviour their bonus would be reduced accordingly. This not only held people accountable but highlighted the importance of good management and leadership.
Encouraging more women into STEM
It is clear that in many STEM sectors there is a lower proportion of women than would be expected. We need to tackle this issue at all levels across industry and academia, hold each other accountable, and step up to the plate on equal pay and opportunities, ensuring women can thrive in the workplace. Whilst there are more formal mechanisms in industry than academia for handling bad behaviour it is still an issue for both. While organisations continue to favour compromise agreements with financial compensation and NDA's rather than addressing the behavioural and cultural issues directly, there will not be the changes we need to see. I am pleased to say that this is beginning to change as more women secure positions higher up in science.
Most importantly, we need to take action. Bullying and harassment is still widespread in our institutions and insufficient progress has been made. Strong, inclusive leadership is key to change, and senior management is critically important in setting the cultural tone and leading by example. I recently co-authored a letter to Times Higher Education supplement calling for institutions to adopt a set of principles that hold individuals, employers and the funders of academic research to account. Please feel free to sign up if you agree!
There is still a long way to go to achieve equal representation in the sciences, but now, more than ever, the value of this sector to society is clear and we can only increase its impact by getting more women involved. We need to be seen as an inclusive and diverse sector to attract and retain the best talent.
It's hard but worth it
Being a leader has allowed me to work with excellent people, help others realise their potential and make really great things happen, but it can also be difficult and lonely at times. That's when it's really important to have good work-life balance – I would never have been able to achieve what I have without the support of family and friends. It is your job as a leader to make the difficult decisions; not everyone will like you for them, but hopefully they will respect you. Invest in your team and company culture, seize opportunities, celebrate success and be comfortable in your own skin!
Follow our LinkedIn Page to keep up to date with the full Inspiring Leaders Series.