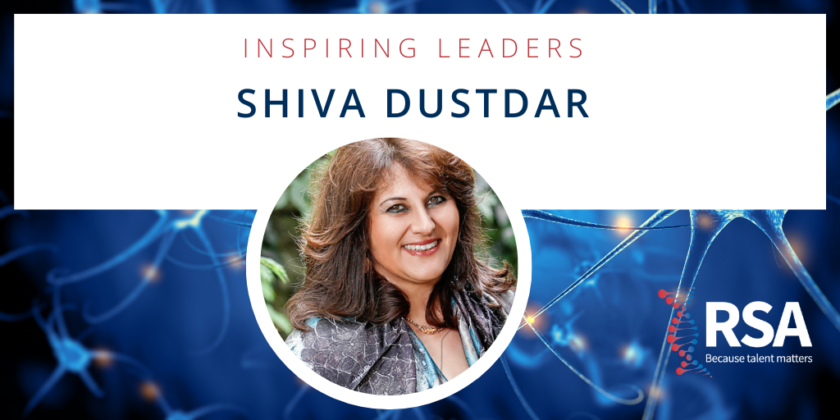 We were honoured to speak to Shiva Dustdar who is Head of Division, Innovation Finance Advisory for the European Investment Bank. In this blog she shares her leadership journey along with some golden nuggets of advice that leaders from any industry sector would gain incredible value from. Read, re-read, share and enjoy!
What makes leaders become leaders? Are these innate skills or are they learned?
Thinking and learning about leadership is something I'm really passionate about. It's so important to learn from others and to put what you learn into practice; I have shelves full of every type of book on leadership. My favourite books are (auto) biographies of leaders I admire, such as Nelson Mandela, Madeleine Albright, and Oprah. I subscribe to the idea that "the more you practice, the luckier you get" and I believe that whatever innate disposition you're lucky to have or how much you have learned in life, you can and should always strive to improve. That includes making mistakes and going through hardship as these are an essential part of the process and everyone needs to have the opportunity to fail, to recover and to persevere. Resilience is essential for anyone in leadership and in life.
Can you tell us about events or influences in your education or early career that helped to prepare you for leadership roles?
First of all, I grew up in an international home away from people with a similar background. My parents are from Persia and we follow the Baha'i Faith, which promotes world unity and peace. I was born in Austria and grew up in a rural environment in Luxembourg where, at that time, I stood out as "different", although that would be much less likely to happen today. My early experiences were naturally very local while our beliefs taught us to think of ourselves as world citizens. This helped me to work out how to fit in whilst being something of an outsider. This was a challenge at times, but it also helped me to be curious about the world around me, to develop a good sense of perspective and to understand and value diversity, qualities that later on in life became survival skills in university and investment banking!
My father's career in publishing taught me to connect with whomever I met as we had an engaging and stimulating social and business life that took us well beyond the rural environment that we lived in. We published a book called "Youth Can Move the World" and that took me to events such as the Frankfurt Bookfair where I met leading authors and thinkers including people such as Helmut Kohl and Mikhail Gorbachev. Since then, I've lived, been educated and worked all over the world and now I'm back in Luxembourg having developed a strong sense of other people's perspectives and a deep understanding of our common humanity.
How did you begin your career and what connected you with life science?
I had an early connection when I was nine years old, a deeply personal one, when my father had a stroke. He wasn't expected to survive, but thanks to the medical help that he received, he did. My initial response to this was that I wanted to be a doctor and I studied life sciences in school and even studied Latin as it was essential for entrance to medical schools in Europe back then. When I was 16 however, a fainting episode in the presence of a cadaver in an anatomy room showed that it wasn't for me!  Instead, I studied economics at Columbia University and, I guess, student debt and the proximity to Wall Street led me into the world of international finance.  When I think back to why I chose to join JP Morgan out of school, I felt that my multicultural polyglot upbringing was valued and, in fact, a shared experience among my peers … this shared global mindset still lures me to JP Morgan's annual alumni events!
I re-connected with my passion for life sciences in 2007 at the European Investment Bank back in Luxembourg, when we launched a new lending programme to support research and innovation where my expertise as a high yield and structured finance specialist became instrumental for supporting R&D intensive companies with risk capital. For me, this was a sweet spot where finance collided with things that really mattered. I did a lot of work with large pharma and small biotech from all over Europe and Israel and discovered that a singular focus on shareholder value by pharma companies was not always compatible with our public health needs.  Many therapeutic areas such as infectious diseases were simply not providing the necessary return prospects to justify the massive amounts of risky investments. This was where public finance and financial innovation could create the right incentives and offer risk sharing capacity for investments in medical areas with unmet needs. In my current role I still meet a lot of amazing biotech entrepreneurs looking for risk capital and often have flashbacks to my father's stroke and how medicine was able to help him. These flashbacks have often inspired me to look harder and further on how financial innovation can unlock medical breakthroughs.
Treatments for infectious diseases have suffered from under-investment
As the Covid crisis has uncovered, certain therapeutic areas such as infectious diseases are not considered lucrative hence there has been a continuous underspend for decades leaving us poorly prepared for such pandemics.  This challenge has preoccupied me since 2009 when TB vaccine developers first approached me at the EIB for financing.  It took us a number of years of market consultation with pharma, global health foundations and policy makers to understand what the real bottlenecks and disincentives were. While this was a team effort building on the expertise of many inside and outside our Bank, the launch of our InnovFin Infectious Diseases (IDFF) in 2015 jointly with the European Commission also taught me many lessons of leadership. To succeed you need to believe in your vision, persevere, surround yourselves with the right allies often outside of your organisation, yet listen to the sceptics to improve your proposals and foremost, understand the need to be patient to see the fruits of your hard work…5 years on, the IDFF is now the EU's key financing instrument for COVID related R&D investments.
Patient capital is vital
Another very rewarding experience was leading a large-scale study on "Financing the next wave of medical breakthroughs – what works and what needs fixing?".   The idea behind the study was to see how deep institutional capital could be mobilised to support medical R&D through innovative financial products that were better suited to the high-risk life sciences model. In life sciences the role of patient capital is really important, and we need people in the financial community who are passionate about the funding needs of life sciences and global health as there's so much to be done. For example, in many areas there's a lack of strong data about some disease areas to help us understand how they affect each gender differently. There are also disease areas, such as in the cardiovascular area where there are gender differences that are not fully accounted for in the design of the clinical trials. If financing can bring these areas into life sciences' focus then we'll be doing some good too. This is what motivates me to get out of bed in the morning.
Diversity has an important role to play
The role of diversity and of women is really important here. The sector (in fact every sector) benefits from a diversity of perspectives and expertise. Women entrepreneurs and investors are essential for this and we recently advised a new patient capital fund in life sciences with a gender smart investment lens, called Jeito. It was set up by a remarkable women-led first-time team headed by Dr. Rafaèle Tordjman.  The mission of the EIB and notably of my division is improve the access to risk capital to support these kinds of initiatives and projects across the innovation spectrum so that companies can survive the 'valley of death' and thrive in Europe. The pandemic has made this even more vital.
What are the most important leadership skills that you've learned and would want to pass on to aspiring leaders?
A growth mindset and self-awareness are essential. It's important to recognise there are many things that you don't know, so, curiosity, active questioning and a never-ending passion for learning are at the heart of good leadership. This is where diversity is so important and that means personalities and different mindsets. You need to recognise when to bring in other perspectives and pick a team to support and challenge you to make sure that you don't miss anything; you'll need sceptics as well as supporters. Leaders need to be able look into the future, listen with humility and create a safe space for others to express their views so stay on top, keep your eyes wide open, read and learn constantly. Build positive capital in the team and create lots of goodwill so that in a crisis such as the Covid-19 pandemic, people will want to go the extra mile for you and the organisation.
The other piece of advice that I'd like to pass on is that the ability to network is vital. Earlier in my career, I sometimes felt that networking skills weren't valued nor considered critical to success in finance. I believe that regardless of sector you need to invest in networking as a fundamental part of your social and business life. Start your professional life by making as many connections as you can – this will be of help to you when things are not going really well and when you need support – don't wait until you have a crisis.
What advice would you give to aspiring female/aspiring leaders?
If ever there's going to be one, this is the century that needs new leadership. Women bring something different to the table when they are leaders and at a time when we should be rethinking capitalism and leadership in the face of climate change and global health threats, the world needs women leaders in all facets of life, be it political, economic, social and this is for the benefit of all society and fundamental for us to meet the ambitious Sustainable Development Goals (SDGs).
I believe in Sheryl Sandberg's "Lean-in" concept, go for it with your eyes wide open and become expert in your field. Don't worry about having to slow down perhaps in the future to manage your other personal duties, you can deal with life's challenges as they arise, because if you let them, they will only hold you back.
Have a can-do attitude, build a strategic network, equip yourself with mentors, sponsors and a diverse spectrum of supporters who believe in you! Make the network effect work for you, shape your destiny and never sit still for too long!
Follow our LinkedIn Page to keep up to date with the full Inspiring Leaders Series.