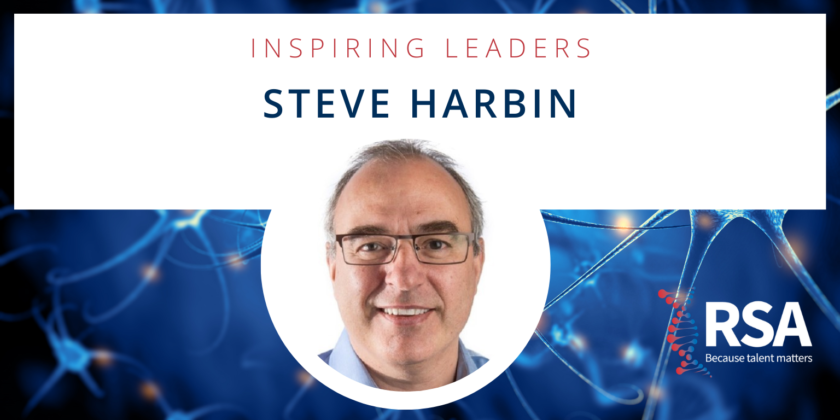 Steve Harbin believes it takes good science, good people and good business to develop and grow a leading biotech. He joined Oncorus Inc. as Chief Operating Officer and Chief of Staff in December 2020. He has more than 30 years of leadership experience in biotech, pharmaceuticals and in-vitro diagnostics including 15 years at the executive committee level for both publicly and privately held companies based in Europe and the U.S. Steve joined Moderna Inc. when it was still at early phase, steering it as Senior Vice President for six years. Throughout his tenure at Moderna, Steve was a key driver of the company's successful growth strategy, overseeing clinical and non-clinical manufacturing operations, supply chain, facilities and human resources. He retired from Moderna in 2019, shortly after the company's initial public offering. Moderna is a now key player in the fight against COVID-19. Before joining Moderna, Steve held the position of Senior Vice President, Global Operations at bioMérieux SA, where he managed over 3500 employees responsible for multiple highly-regulated global functions, including regulatory, information technology, internal control and quality, and all 15 of the company's global manufacturing sites. In addition to his operational duties, Mr. Harbin also held two board-level positions in joint ventures in Japan and China. Earlier in his career, Steve held multiple leadership roles within Eli Lilly and Company globally.
We thoroughly enjoyed our interview with Steve, he is not only a superbly impressive life science leader but also a genuine and inspiring individual. In this interview, Steve shares his thoughts on good leadership and takes us on a fascinating journey through his career, once you start reading you won't be able to stop!
What makes a good leader?
The most important skill for any leader is listening. Too many people fail to recognise this and it's amazing how many want to be the loudest or only voice in the room once they take on a leadership role. My approach, and that of the people from whom I've learnt the most, is that once you've built a good team you must make sure you listen to them before making your decisions. Things won't always go right; no leader is perfect and shouldn't expect to be, so don't let your behaviours be affected because that's going to impact your team, be consistent. Remember, culture is an output, you get the culture you deserve so be a shaper and enable the whole team to be successful. Setting realistic expectations for people and for yourself is vital. If you think there will be no bumps in the road, you clearly haven't done it before. How you respond will define you as a leader.
Are these innate skills or are they learned?
Actually, they're both. Not everyone should swim in the ocean just because they can swim and similarly not everyone should be a leader. In the early days, I wasn't as good as I wanted to be, but the observance of good and bad leadership shaped my early career and actions. This is experienced more acutely when you're younger without any power, but it is always a learning opportunity. Those who emulate and take advantage of good examples, letting the bad go, will do well and learn to be better.
Can you tell us about events or influences in your education or early career that helped to prepare you for leadership roles?
Well, for a start I wasn't a stellar student, I struggled with exams although I had no problem learning. I went to school in the North East of England and recall attending a careers day when I was 17. The choices put in front of me, as someone likely to leave school and go straight into work, were the steel industry, welding, coal mining and other manual occupations. It felt like an almost pre-programmed outcome. Fortunately, I had the perspective and self-awareness to recognise that I could do better. I left the area for work while I waited to go to agricultural college. After three years of study, during which I embraced education and learnt new skills, I graduated. From there I got very lucky and joined Elanco which was, at that time, the agricultural division of Eli Lilly & Company.
Elanco & Eli Lilly had a great attitude to talent development, having strong programmes with rotational assignments which allowed me to deliberately build my base of experiences over this time, actively seeking out new opportunities every 18-24 months. This included moving to Eli Lilly itself where my biopharma career really started. I emerged with a much broader skill base than many others. I was able to understand the different silos of the business, so later I could bring them all together and marshal big teams across the company to achieve real change. The lesson here is to find a company that will invest in you and I found that at Eli Lilly & Company.
Can you describe your career path in life science and the major influences that helped you arrive where you are today?
I spent nearly thirty years at Eli Lilly and reached a point where I could either finish my career with them or look for a new challenge. Stéphane Bancel, originally one of my team at Lilly, had moved to be CEO of BioMerieux in France and he asked me to join his team there. Stéphane is super focussed, prepared to take risks and seize opportunities so, inspired by this, I couldn't resist his offer. Stéphane needed someone to run the company's operations in France, so I went there to solve problems and help make a difference. This was a big pivot and challenge for me, it was my first time on the executive committee of a company, diagnostics was a new industry for me, and I would eventually be responsible for around 15 manufacturing sites and a workforce of 3500 people.
After five years, Stéphane left to become CEO of Moderna and a year later I followed him there as employee no. 36. Moderna's science was not yet proven but you could feel the energy and potential. I'd helped to move BioMerieux to a good place with much improved operations, supply chain management, quality assurance and internal management systems and I was ready to move on again. So, my wife and I, after much debate, took the risky leap into the world of Boston biotech start-ups, where science, time and money (lack of) create a frenetic environment of creativity. An alien landscape where I started with one employee, for leverage! Exciting times for a 55-year-old Senior Executive in a very stable role and considered not an intuitive move by many, including one Mrs. Harbin at the time!
What are the most important leadership skills that you've learned and would want to pass on to aspiring leaders?
You can start to lead before you have a defined position of leadership. Leadership isn't limited to hierarchy; peers can lead and subordinates can lead. Take risks when you're young and don't worry too much about setting your career path too early, you'll nearly always end up somewhere you couldn't foresee. Take advantage of development opportunities as they present themselves (even if you are 55 and still have the stomach for it).
When you're a young leader, think about how you want people to think about and respond to you. You have an impact on people and a duty of care at the same time so there are no excuses for poor behaviours because you are the one in a privileged position. You're only as good as your team and they will lift you up or drag you down. Remember, leaders get the culture they deserve. Don't blame your team first, look at yourself and ask what you could have done differently.
In your experience, what are the most important skills to secure when building a leadership team?
Teams need to evolve, especially in fast developing life sciences companies. Certainly, the team you start with won't be the one you finish with and you have to change the team, augment and add as the organisation's needs change. Sometimes that's through people growing and evolving and often it means bringing in new people with the right skills for that stage of development. As a leader, I try to create an environment that allows for development and recycling of people to meet changing goals and priorities. Identify and take risks with your talent, they will most likely reward you with great outcomes.
Diversity is essential so don't choose people like yourself, select the best people for the job and for the team and then get out of the way and let them do what they've been hired to do. Set the boundaries and then be the conductor of the orchestra, create the environment and then allow it to evolve so it doesn't stagnate. If you are micro-managing a good team, its most likely a behaviour driven by your weakness not theirs.
What advice would you give to aspiring female leaders?
I coach many talented women because I really believe in supporting them to reach their potential. My advice to them is to find an advocate who will provide support, who will bet on you, independent of their gender. Realistically until women occupy a much more equal share of the workforce, I believe that this extra help is important wherever it is found. Be confident and find your voice and make it heard. If a company culture, or a specific leader doesn't encourage you or provide the environment to allow your development, they don't deserve you.
Follow our LinkedIn Page to keep up to date with the full Inspiring Leaders Series.