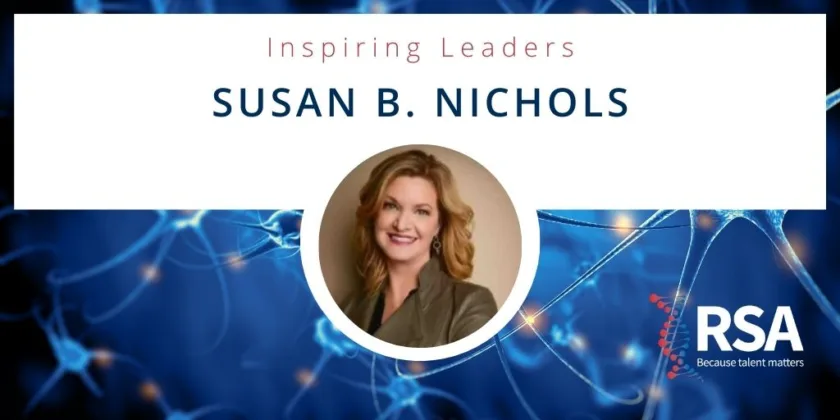 Susan B. Nichols is Chief Business Officer at Virocell, an innovation-driven CDMO that manufactures viral vectors to enable novel cell and gene therapies to enter clinical trials. She has over twenty years of corporate management and leadership experience in high-growth biotech companies, having served in global executive management roles with early-stage, emerging, and Fortune 500 companies such as Invetech, Baebies, Thermo Fisher/ASI, Hitachi Chemical and Roche. Susan currently sits on the Board of Directors of the Alliance for Regenerative Medicine ("ARM") and is Co-Chair of ARM's Women's' Executive Forum.
I was delighted to be able to interview Susan as part of our Inspiring Leaders series. In the blog below, she shares some valuable insights into the value of authenticity, the need for decisive leadership, and the power of mentorship.
The importance of decisive leadership
One of the most important skills for leaders is decision-making.
We must learn to be good at saying 'this is the best decision I can make, at this point in time, with the information I have'. If you get new information, then you can revisit your decision. People like to follow decisive leadership, even if it's not perfect.
This also applies to our day-to-day focus.
When there are many different directions you could take, it can be difficult to know what to do next. Analysis paralysis can be debilitating. To overcome this, I always ask myself, what are the top three things that will really drive me to reach my goals today? Some ideas will distract, and others will support. It's about parking those distractions and keeping a clear focus on the activities that will move you closer to your desired endpoint. When we put too much on our plate, we rarely accomplish what we set out to achieve.
Leading with honesty and authenticity
My top piece of advice for leaders is to be authentically you – the big, beautiful, quirky you. That's who people follow, and that's who people attach to. Be honest with your team and tell them what you're good at, as well as what you're not so good at.
During the pandemic, everybody came into our homes – they saw where we live and how we live. We learned to accept each other's distractions, and we found a new appreciation for the concept of bringing your whole self to work every day. So, whoever you are, and whatever your leadership style is, embrace it! People can sense if you don't do it authentically.
It's so important to lead from the heart – when you genuinely care about the people you work with, and the people you work for, it shows. Everyone needs to feel like they're valued and respected and that their opinion matters. If someone has done a good job, articulate it and thank them personally – get to know them, bring their favourite cookies into work. The little things go a long way. It's about celebrating as a team, not only the big wins, but also the hundred little wins that led to that moment.
Harnessing diverse talent to build a strong team
To create a diverse talent workforce, we seek to recruit from a mixture of differences and similarities such as age, race and gender identification.  We work at harnessing everyone's different backgrounds, leveraging experiences and understanding individual expertise. In a team where everyone's the same, you miss out on the beauty that true diversity brings as perspectives will be different from all contributors.
When I'm building a team, I try to choose people with complementary skills. For example, I will choose one team member who is super detail orientated, one team member who's great at generating ideas, and one who's an excellent networker. This way, everyone can learn from each other and all benefit from hearing different perspectives.
It's important that everyone has a place where they feel they belong, where they're included and valued, and where they are supported to help them achieve their goals for the future. For this reason, it's important to create different initiatives for different groups of people – a safe space where you can learn from your peers and where there are no silly questions. For instance, I was involved in launching initiatives such as the Alliance for Regenerative Medicine Women's Executive Forum. Whilst I've personally been involved in lots of women's initiatives, it's important that we lift everyone up and that everyone can have their voice heard.
Find that role model
I'm a strong believer in the power of mentorship. If you want to find a mentor, look for someone who is already where you want to be, either at the next step or beyond. Most importantly, look for someone who has the skills and traits you want to develop. For example, you might want to become more articulate, and look up to people who can frame their ideas clearly and concisely. You might admire someone who is able to stand up and speak in front of 1,000 people and think 'I want to be able to do that.' Find someone who's at the next level and learn all you can from them.
There are formal mentoring schemes in almost every industry, but if you can't find one, don't be afraid to approach people and find your own mentor. During the pandemic, I decided that I would have a conversation with every woman who is an entrepreneur who reached out to me on LinkedIn. I met some amazing, bright, and motivated women. I helped them if I could, and if I couldn't then I would connect them to someone else who would. The perspective was humbling because I realised how many people had helped me in my own journey. If we all mentored just one person, imagine the impact we would have.