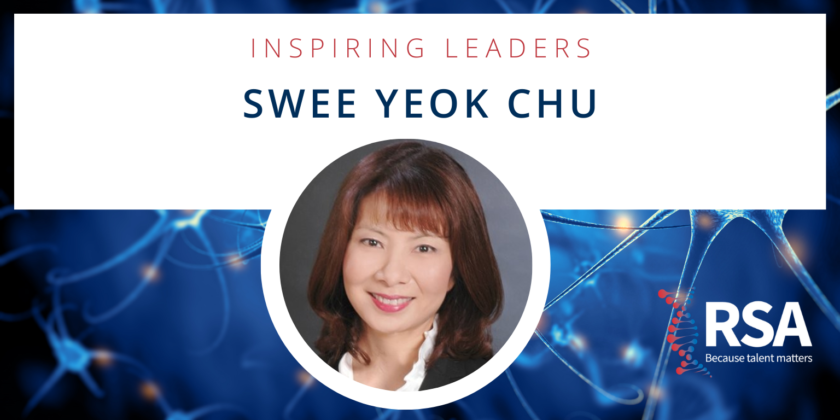 With over 30 years of success in venture, growth and late-stage financing as well as private equity and fund investments, Swee Yeok Chu is now CEO and President of EDBI, a trusted global investor and active strategic partner of innovative technology companies. As well as the EDBI Board and its Executive Committee, she serves on the Board of National Healthcare Group, Singapore-Suzhou Township Development Pte Ltd, Biomedical Sciences Investment Fund Pte Ltd, and a publicly listed company. Additionally, she is a Limited Partner Advisory Committee member of several global private equity and venture capital funds. Ms Chu has led many notable global investments in high growth technology sectors ranging from information, healthcare and frontier technologies to select key manufacturing and services industries. She also has extensive experience in corporate and organisational management, strategy, business and technology development. In this Inspiring Leaders blog, Ms Chu shares her thoughts on effective leadership. She also tells us about her entry into the world of life sciences and how one particular job was the start of an exciting career that led to her being invited to be part of the pioneering team which strategized, planned and developed Singapore's many initiatives to build a new life sciences industry.
What makes leaders become leaders? Are these innate skills or are they learned?
Leaders typically have strong innate determination and embrace the purpose of what they want to achieve. However, being predisposed with leadership skills, is only the start of a leader's journey.  A leader's growth comes from constant experiential learnings from the evolving environment around us. For example, people management takes place under many different circumstances. Thus, a leader needs to have empathy, full confidence of their strengths and limitations, and be cognizant that they need not have all the answers/solutions just because they are in a leadership role.  This will alleviate unnecessary pressures on a leader to take the right decisions.  A leader also needs to listen well, as by doing so, it helps to create the psychological safety net for colleagues/teams around them to participate, contribute and a freedom to ideate, the latter of which would usually lead to more inclusive and better outcomes for the organisation.
How did you begin your career in life sciences. Can you tell us about events or influences in your education or early career that helped to prepare you for leadership roles?
I was given a choice of majoring in Chemistry or Biochemistry. I chose the latter because the science intrigued me.  When I graduated in the mid 1980s, however, the career options were somewhat limited to the usual paths – either research as a career or sales and marketing for MNCs, or working in a manufacturing environment, all which did not appeal to me.
I had the opportunity when the position opened up at the Economic Development Board (EDB) for someone with my background to contribute to building a new industry in life sciences as well as promoting the pharmaceutical sector in the mid 1980s.  The job at EDB marked what was the start of an exciting career journey for me.  Even as a young member of the team, I had plenty of exposure to work closely with senior management and decision makers of global MNCs investing in pharma R&D, clinical development and manufacturing in Singapore.  Just into the first day of my job, I was in a room discussing with senior executives of a US medical device company on their plans to set up a manufacturing plant, followed by a visit to an empty piece of land that was proposed as a potential site for their facility.  You could imagine how intrigued and excited I was that I did not mind even if I had to throw away my lovely pair of shoes after trampling on the muddy site as it had rained just before we visited!  The company's facility eventually grew to be one of its largest manufacturing plants in the world.  Throughout my career there, I was involved in many similar impactful projects.  I travelled widely to meet with top executives of companies in the US and Europe.  Having the opportunity to interact with global top decision makers, and having to negotiate with them across the table on incentive support packages, as well as understanding their local workforce requirements, laid the foundations for developing my leadership skills in decision making and most importantly strategy development and building the competency to adopt a holistic perspective yet paying sufficient attention to details for successful execution.
Can you describe your career path in life sciences and the major influences that helped you arrive where you are today?
Following the early year stints, I was invited to be part of the pioneering team which strategized, planned and developed the country's many initiatives to build a new life sciences industry.  Back then, there wasn't a strong research culture in life sciences in either the public or private sector.  I was involved in helping to put in place a comprehensive suite of programmes that became the building blocks for establishing a new industry, literally from scratch. It included conceptualising, budgeting of new public institutes, attracting renowned global scientists to head up the public institutes and engaging CEOs of global life sciences companies to interest them in research and clinical development and manufacturing activities in Singapore.  At a subsequent point in time, I held 3 leadership positions in 3 different organisations to ensure coordination for the execution of all those initiatives. It was a very challenging period for me personally, having to juggle my family and work, but satisfying. I quickly learnt to multi-task and the importance of working as a team to achieve the outcomes that was required.
Among the many programmes, the setting up of the first biotech investment fund in 1988 intrigued me most.  From obtaining the financing for the fund, to naming it, and recruiting a new investment team to manage the fund, I enjoyed it so much that there was no turning back for me.  I decided to make it my career.  The work was meaningful given the unique nature of the investment activities which was unlike a typical venture investing.  From a low double digit million fund in late 1980s, I grew that activity and eventually secured and managed a S$1B fund in 2004 and served as its founding CEO, to invest in life sciences companies.
In 2009, I was invited to take on a much-expanded role with a larger fund, to lead venture investments into software and deep technology sectors beyond life sciences and healthcare, and to also cover private equity investments in local SMEs and fund investments. This is what I continue to do currently!
What are the most important leadership skills that you've learned and would want to pass on to aspiring leaders
For me, decision making is a fundamental skill that any leader would need to develop.  Leaders are expected to be decisive and prepared to take accountability for the outcomes of decisions made.  Decisiveness usually takes precedence over consensus building, especially when decisions are time critical.  In doing so, decisions need to be made with clarity of thought and with objectivity.  From my experience, decisions on a business or investment transactions are typically more straightforward and made based on rigorous process of deliberations, corroborated by facts, supported after considerations of all related variables/potential outcomes and applying good and sound judgement.  Decisions involving people, however, are somewhat different.  While being decisive, it must be principled, accompanied by fairness, empathy and respectfulness.
In your experience, what are the most important skills to look for/secure when building a leadership team?
I had the opportunity to build several new teams in the 30 plus years of my career.  One thing is clear to me – successful teams cannot be built overnight, but are nurtured over time.  There is no shortcut to building good leadership teams.
When I was asked to head up this current role, I was not familiar with all the sectors that the fund was to invest.  But I quickly recruited competent and qualified individuals who bring with them the required domain knowledge, and they are often smarter than me!   I am also a firm believer of having individuals with diverse experience and backgrounds in the team, so that their different and varied strengths could complement each other for the benefit of the business.
Bringing together a team of smart, driven individuals is often hard work and not a recipe for a successful leadership team.  With their knowledge and experience, these individuals are usually highly opinionated, confident and even arrogant at times.  As a leader, I invest time and patience to understand each of them individually, to drive the alignment of their personal aspirations with that of the organisation.  Being a firm believer of teamwork, I would consciously inculcate the culture of working together and over time, they would learn to recognise the strengths of their other colleagues and importantly build trust amongst each other.  Having respect and trust are key attributes of a successful leadership team.
What advice would you give to aspiring female/aspiring leaders?
The subject of diversity has been rigorously deliberated by many but I believe that leaders aren't defined by their gender.  When given the responsibility to lead, you just need to apply the best of your leadership skills and acumen to that role, regardless of your gender.  Having said that, a woman leader can leverage on what she is naturally blessed with, such as having good intuition and empathy for others, when leading.
Most importantly, in whatever that you do, and leader or not, always give your very best. Be yourself, be genuine!
Follow our LinkedIn Page to keep up to date with the full Inspiring Leaders Series.