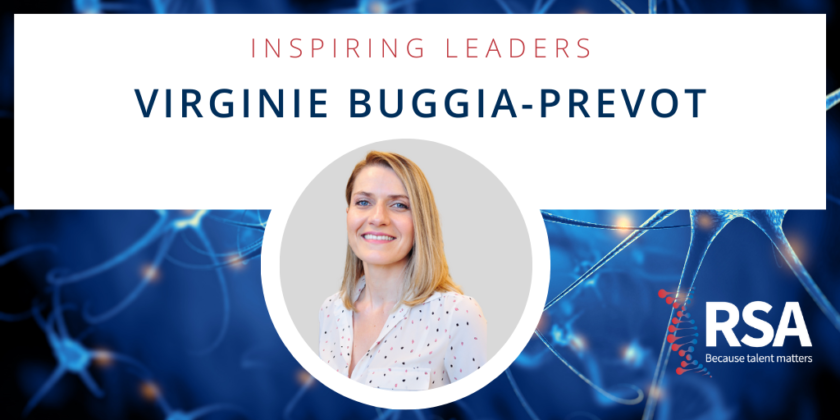 Following a PhD in neurobiology and a post doc at the University of Chicago, Virginie Buggia-Prevot joined MD Anderson's Neurodegeneration Consortium, managing strategic alliances and working on drug discovery. The aim of the Neurodegeneration Consortium is to better understand the underlying biology of Alzheimer's disease and translate this knowledge into therapeutic interventions that can effectively alleviate symptoms by delaying, reversing and/or eliminating the pathology of the disease. In November 2020, she joined Valo as Director of Neurology Discovery, an opportunity to bring new research in neurodegeneration to bear on patients' lives. Virginie Buggia-Prevot was named to In Vivo's 2020 list of 30 Rising Leaders in the Life Sciences for her work on early-stage target discovery in neurodegenerative conditions, including the neurotoxic effects of cancer treatment, with the goal of developing novel therapeutics. In this article, Virginie shares her thoughts on leadership and how it is about helping people and should be practiced and enabled at all levels of an organisation because we all have a responsibility to change our behaviour to lift up those around us. We couldn't agree more and we learned so much from hearing her views, we are sure that you will too.
Becoming a leader
I still find it surprising to be called a leader. My goal starting out was to help people, not to lead them, but I have come to realise that these two pursuits overlap in many ways. Being innately driven, passionate, resilient, a good listener and having a broad outlook are all skills that position you to help and to lead. Some people are born with these talents, but all skills need to be honed and practiced to a degree, and anyone can learn the skills of leadership if they have the motivation, determination, and an open mind that is willing to learn at every point along the journey. Society is evolving and we can always do better; support our teams more, be more inclusive, listen more, I could go on!
Opportunities to learn and improve can be hard to recognise. Acting as a spokesperson at Graduate School and running a seminar series for postdocs who were struggling with the transition from academia to industry, gave me the chance to serve others and to make a difference as well as honing my ability to support and lead others.
Being a leader is also about participating in and enabling training. It is a tall order to expect you to learn all the skills you need on your own. This training should not only be available to high-flying employees, it should be available to all levels, because leadership occurs at all levels, not just at the top. We all have a responsibility to change our behaviour to lift up those around us and be more supportive; this is a form of leadership that everyone should practice.
I was a shy child, but I have always been drawn to helping people learn, grow and thrive. This drove me out of my comfort zone to become very outgoing, but this was not an easy journey. The path to self-acceptance, self-care and self-confidence is challenging, and for me meant getting over my fear of judgement from others.
Mentors and role models
I have been very fortunate to be surrounded by lots of inspirational people rather than having one person who I would call my mentor or role model. These people demonstrated their leadership by how much they cared about those they led; they stood out to me because they were people first, leaders second.
Susan Lindquist shone in this regard. She was an amazingly accomplished, brilliant scientist, while always being so human, caring and actively listening to everyone, no matter their position. In fact, the first time I met Susan there was a rainstorm outside and she insisted I take her trench coat so I would not get caught in the rain! She was loved by her team and trained them to be better both professionally and personally. This is the type of leader I strive to be.
The journey
I have always been passionate about science and secured a position in an academic research lab of the French National Institute of Health and Medical Research (INSERM) studying Parkinson's disease (INSERM). This was my first key opportunity on the path to get to where I am today. But I was lucky; I was passionate and persistent, but most importantly I was given a chance. In my experience, to make it in this sector you need to work hard, go after what you want and persuade others to give you a chance.
After my postdoc at The University of Chicago I knew I wanted to continue working in medical research, so I approached a lecturer at a conference and started a dialogue about working with him – by the end of the conversation I had a job offer. This was my start at MD Anderson at the Neurodegeneration Consortium. I took the initiative and asked for what I wanted; remember, you can't win if you don't put yourself in the ring.
Opening a dialogue is key to finding your dream job. By this point I knew the sector I wanted to work in and liked the company I was with but wanted to move away from the lab and more towards building relationships and partnerships. This was a position that didn't exist at the time. However, by starting a conversation with my boss and asking for what I wanted I secured the position I am in now. I'm currently responsible for taking neurodegenerative disease research all the way from bench-side to bedside, leading scientists from the lab, working with partners on new targets, and taking drug candidates through to clinical trials. This was never a career path I saw myself taking, it evolved as I grew and learned.
The right skills for the job
When hiring, I am not necessarily looking for the person that will be the best support to just me as a leader, I am looking for commonalities in drive, motivation, and attitude, to help build up our team together.
A big learning for me has been that micromanagement doesn't work. It is demotivating, depowering, prevents people from taking initiative and ultimately prevents them being the best they can be. As a leader, your team must be able to lean on you, but you also need to lean on your team. This is especially true in the life sciences; as you start to move towards a leadership position, you stop being the expert in a particular area and must learn to rely on your team for their expertise.
My goal is to empower my team to train others, allowing everyone the opportunity to lead and to learn from each other. This not only helps to raise the skills of the whole workforce, but ensures every member of staff feels valued, respected, and motivated to engage with the mission. Finding the balance between accountability and hierarchy versus autonomy and learning is a difficult balancing act but crucial to get right. Connectivity is key, and segregating people based on their project is rarely – in my experience – the right approach.
Company culture
For me, being a good leader has always been about the people; you have been given a position of leadership to enable you to support and help others, not the other way around. Fostering a good team culture has always been my top priority, and a big part of that is listening to and meeting people's needs to enable them to bring their best to the job.
This became even more apparent during the 2020 COVID-19 pandemic. Two of my team members had young children and working from home whilst caring for their families was a big challenge. After discussing how we could make it work for them, we initiated a system of flexible hours and shift work. Both women felt supported and heard and were motivated to make the situation work: this has been their most productive year so far! COVID has actually been a growth opportunity for my team. It has provided the space for the team to have more autonomy, motivate themselves, and keep hours that help them maximise their productivity. Moving forward, this model of flexible, remote working could be an excellent way to support team members with families, disabilities, and those who cannot travel, helping us all work harder to meet diversity and inclusion goals.
Women leading in science
Building your network and being proactive are crucial. Find support, find mentors, don't hesitate to reach out to people who inspire you and don't be afraid to reach out to people you don't know on the phone or on LinkedIn. In my experience, most people want to help.
Having more women at all levels of the science sector provides allies and role models for young women starting out and helps provide younger women with the skills to deal with sexism, racism or discrimination in the workplace. Only by tackling these systemic issues at all levels can we make an impact.
It is important to flag that the battle is not just about increasing female representation in science, but about increasing diversity. This is not just a gender issue, but an issue around increasing representation, and we need to work on this actively if we are going to make a difference. This includes removing bias around gender, sexual orientation, disability, race and ethnicity. A big part of this is holding people accountable – call people out who are not meeting their diversity quotas and put in place D&I committees. It is also important to make sure people do not feel they were hired because of the gender/race: don't hire a token woman, hire an even split. None of this is easy and change is never linear, but it is important.
Conclusion
I don't believe in setting out to be a leader – our role is to help others and one way of doing that is to lead. I try to do my part, learn from my experience, and help people. It is very humbling to be recognised as a leader. It wasn't something I strived to be but now that I am here, I am delighted to be able to help more people, and encourage more women to take the leap, push forward and get involved in this incredible sector.
If you enjoyed this – do watch our Inspiring Leaders Webinar that we hosted in May. This 60 minute panel discussion offers unique insights on leadership and growth from industry leaders in the life sciences. Watch it here!