JPM 2020 l The changing landscape of global healthcare in the new decade
By Nick Stephens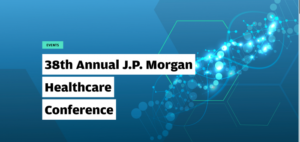 I was struck by a resounding shift in attitude at this year's J.P. Morgan Healthcare Conference; less talk, more action. The atmosphere felt more purposeful and professionally active than in previous years – UK attendees in particular were influenced by the promise of newfound regulatory and policy certainty in the UK.
This sense of activity was intensified by the 'arrival' of China; for several years China has been 'coming', but this year's event left no doubt that China is now here to stay and doing business. But what was the focus of all that activity?
Surprises, expansion and new directions
I am glad to say that this year's conference wasn't short on excitement, innovation or hard-hitting statements.
For me, Deputy Secretary of Health and Human Services Eric Hargan differentiated the event by bringing the US healthcare system under scrutiny. He openly stressed the need for the US government to increase access to patient data, currently restricted by the HIPAA Privacy Rule, removing barriers to organisations trying to share data in an attempt to assess outcomes and improve healthcare delivery. This would, Hargan assured, help to bring about a much-needed reduction in the cost of US healthcare. The 4.6% increase in U.S. healthcare spending last year, bringing the total spend of healthcare to 17.7% of GDP[1], is clearly rate limiting and ultimately not sustainable. Could this be a solution to a problem that has been universally recognised for many years?
Sustainability in a different form appears set to become an issue for immuno-oncology (IO) businesses. With thousands of IO trials ongoing but only a handful of approved products – costing anywhere between US$100,000 & US$475,000[2]– available, current pricing (and therefore company valuations) will become unsustainable as those new IO products come to market. Giving rise to the question 'how to sustain C&G therapy businesses?'
The answer; once the "method" is established, expand into new, larger, therapeutic areas especially in inflammatory diseases like rheumatoid arthritis
The 2020 landscape
Despite this uncertainty, C&G Therapy was still the hottest topic at JPM 2020 with CNS and digital health close followers.
I was intrigued to see the resurgence of investor interest in platform technologies, challenging the recent popularity of single asset, single direction programmes. Indicative of this shift are mRNA and exosome technologies which are now considered one of the most promising tools for precision targeting of a wide range of diseases.
The global perspective
The event also offered a fresh perspective on US vs UK healthcare, which currently seem to be two sides of the same coin. The UK, thanks to the NHS, has access to vast amounts of patient data. This potentially allows the "monolithic" healthcare system to measure outcomes and demonstrate efficacy more quickly, giving weight to the power of 'right dose, right patient, right drug, right time'.
However, despite having the knowledge of what works and what doesn't, the UK has a lack of private capital combined with risk averse investors, limiting support available to companies in the early stages of drug development. Great Britain has the science, the data, the tools and the talent but is still short on sources of funding.
On the flip side, the USA has access to much larger amounts of available capital and investors who are ready to roll the dice – they have enough gas in the tank but systemic issues prevent the wide-scale assessment and demonstration of efficacy needed to efficiently bring new drugs to market. With The President putting pressure on industry and Brexit ushering in a new era for the UK, I will be interested to see how these hurdles are overcome by both parties.
China continues to invest huge amounts of money and resources into healthcare, and by doing so is jumping ahead to become a leader in this sector. In 2018, $43 billion of life science investment was raised for new venture capital and private equity funds targeted at China life science investments. This is strategically important for the Chinese state as it intends to provide affordable and effective healthcare for all its people. However, there is still a lack of homegrown senior leadership talent in the life sciences in China, necessitating the draw of talent from Northern American and Europe.
Despite the opportunity here, US investors as a whole seem to be backing local talent rather than looking East. The size and security of the US life sciences market means this is still a viable option, but for how long will they be able to ignore the elephant in the room? The UK on the other hand seems to be engaging with the Eastern Giant, as demonstrated by AstraZeneca launching a new fund with China International Capital Corporation to invest $1 billion in China's healthcare sector, as it expands its research work in the country[3].
Technology for the new decade
Once again, JPM did not disappoint, and with so much talk centred around next generation technologies and therapies, as well as new partnerships, this was a fitting start to what seems set to be a big decade for healthcare around the world.
Join in the discussion and share your views. Contact Nick Stephens on Nick.Stephens@theRSAGroup.com
[1]https://www.cms.gov/Research-Statistics-Data-and-Systems/Statistics-Trends-and-Reports/NationalHealthExpendData/NationalHealthAccountsHistorical
[2]https://www.nature.com/articles/d41586-018-02483-3
[3]https://uk.reuters.com/article/uk-china-trade-expo-astrazeneca/britains-astrazeneca-launches-1-billion-china-investment-fund-with-cicc-idUKKBN1XF2PL