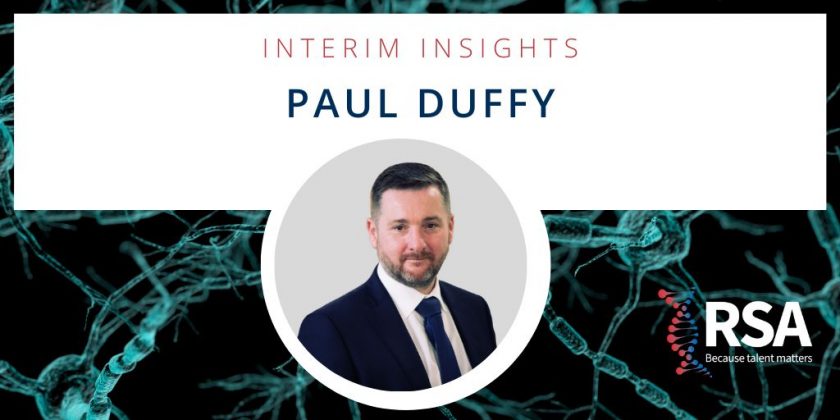 Paul Duffy forms an integral part of our in-house Executive Interims team, leading the charge on our interim placements. He has a strong track record of placing talented individuals within the pharmaceutical industry and helping numerous companies achieve important milestones.
Over the course of his time at RSA, he has continued to grow our executive interim offering with his can-do attitude and ability to deliver quickly and efficiently for our clients. As part of our "Interim Insights" series, we shine a spotlight on Paul as he shares his story on how he began his career and what drives him in his role.
Professionally speaking, who is Paul Duffy?
I have been working in recruitment for 22 years, 18 of which I have spent specialising in life sciences. For the last 10 years, I have been focusing on the interims side of executive recruitment.
I work with a 360-degree method of recruitment, which involves driving every aspect of the process, from the identification of opportunities, search, selection of suitable candidates  right through the interview and offer process as well as offering advice and insight to clients and candidates on contractual matters.
Throughout my career, I have worked across the spectrum of clinical development, from translational medicine through to commercialisation. with deep networks in Clinical Development, Medical & Regulatory affairs, Quality Assurance, Marketing, Market Access, and Health Economics. During my time at RSA, I have expanded further into pre-clinical discovery & development as well as working with C-suite Appointments.
Whilst I have in depth experience working with all types of organisations, from Big Pharma to Academia my passion lies with working with the smaller, SME Biotech companies who are at the cutting edge of science and the introductions I make have real, visible benefit to their development plans
Of course, that's all professionally speaking. Personally, I'm a straight-talking man who loves what he does and (if I do say so myself) does it quite well and always with a smile.
How did you begin your career in interim search?

Getting into the interim space was never a predetermined goal of mine – rather an opportunity that arose and was simply too good to pass up. It all started when I had the chance to launch a freelance/interims department at a previous organisation. I never looked back after that.
Interim search is highly satisfying – working with highly talented individuals who have the ability to make a huge impact on an organisation within a short space of time can be very rewarding.
One of the key requirements for executive interim search is to develop and maintain a strong network. My previous experience in recruitment has enabled me to grow a vast network of both recruiters and candidates – all of whom I keep in regular contact with to this day. When a client approaches me in need of someone with relevant skills, it doesn't take me long to start contacting candidates; often I already have someone in mind!
What kept you focused on interims?
You'll never find an inexperienced executive interim; the very nature of an interim is to be an expert on a specific topic, however obscure that topic may be. The boundless knowledge that these individuals have in their area of expertise is a marvel of academia.
With this expert know-how comes a level of value that you can't often find elsewhere. I always tell people you get more bang for your buck with interims because it's true! In most cases, an interim is experienced enough to be able to complete projects to deadlines – with time to spare – and are suitably overqualified.
I love the variety that comes from such a dynamic working environment. It keeps me on my toes and keeps me motivated every day.
The world of executive interims moves at a faster pace than retained search. Interims are generally hired for two reasons: either you need someone now, or you need someone with very specific experience. In the first instance – much like a case I had recently – I'm able to turn around a search in a day. Of course, this urgency isn't always necessary – many of the more specialised searches require a more methodical approach.
The benefit of my broad experience and vast network is that I know exactly where to look to find the right people in a short amount of time. I've always been a straight-talker, I don't like to beat around the bush; in my line of work, you can't afford to. I take an honest approach, ensuring that my clients and candidates always know where they stand.
Why life sciences?
I first began working in life sciences when I was hired for the position of Clinical Research Manager. At the time, I didn't foresee it taking me anywhere special on my career path… boy was I wrong!
There's one thing about life sciences that everyone always mentions, but the reason it is said so often is because it's true: Once you make that first placement, and you get the feeling of having made a difference, you'll be hooked on the industry. It's a world full of so many different people, with a myriad of specialisations, in a mixing-pot of interesting and inspiring ways of thinking.
My colleagues and I are fortunate to be able to talk with inspiring and knowledgeable individuals every day; what more could you ask for in the way of motivation?

If you would like to find out more about Paul, or to contact him regarding executive interim placements, either as a candidate or as a client, you can find his page and contact details here.

Alternatively, you can learn more about our executive interim process on this dedicated webpage. Interested in our previous Interim placements? We also have Interim specific case studies from our previously completed searches here.