Placement | ASLAN Pharmaceuticals appoints Kenneth Kobayashi, MD as Chief Medical Officer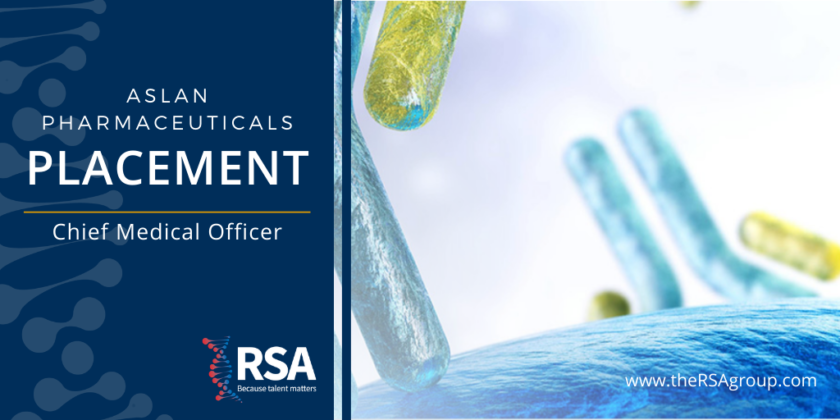 Following a successful search, The RSA Group is pleased to announce the placement of Kenneth Kobayashi, MD, as Chief Medical Officer at ASLAN Pharmaceuticals, a clinical-stage immunology and oncology focused biopharmaceutical company developing innovative treatments to transform the lives of patients.
Dr Kobayashi has more than 25 years of experience in drug development, clinical practice and regulatory affairs as a Dermatology expert. He most recently served as Senior Medical Director at Dermira, a subsidiary of Eli Lilly, where he was responsible for the development of lebrikizumab, a monoclonal antibody for atopic dermatitis.
Prior to joining Dermira, Dr Kobayashi was Clinical Development Medical Director at Novartis, in the Immunology, Hepatology and Dermatology Global Development Unit, where he supported the development programs for anti-IL-17C and anti-IgE monoclonal antibodies.
Dr Kobayashi will be based in California and will be responsible for the global clinical development of ASLAN's pipeline, including the lead program, ASLAN004, an antibody that blocks the IL-13 receptor, which is being developed for atopic dermatitis (AD).
Shawn O'Connor, Managing Partner – North America at The RSA Group commented: "Dr Kobayashi's appointment in the US followed an extensive global search and careful candidate due diligence by our team. This excellent outcome demonstrates The RSA Group's ability to engage the best candidates in specialised areas on a global scale whilst remaining focused on the specific needs of our clients. We look forward to Dr Kobayashi making a significant contribution to ASLAN as they build their presence in the US."
Dr Carl Firth, Chief Executive Officer, ASLAN Pharmaceuticals, said: "We are pleased to welcome someone with such strong industry expertise and relationships from working with other novel biologics being developed for AD. Dr Kobayashi's appointment is an important step for ASLAN and we would like to thank The RSA Group for their thorough understanding of our requirements and their professional approach in delivering a truly excellent result."
The RSA Group's partnership with ASLAN also included the successful placement of Non-Executive Director.