Placement | Biocon Biologics Appoints Michael Cutter as Chief Quality Officer
By Poppy Moore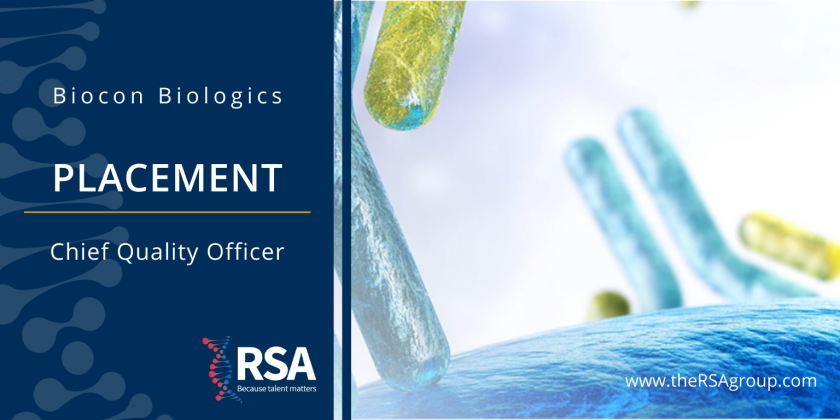 Following a successful search, The RSA Group, a leading Life Sciences Executive Search and Executive Interims firm, is pleased to announce the placement of Michael Cutter as Chief Quality Officer at Biocon Biologics, an innovation led, fully integrated biopharmaceutical company that develops affordable biosimilars, generic formulations and complex Active Pharmaceutical Ingredients (APIs).  Michael started his new position on 21st July 2022.
Michael has more than 30 years of Quality leadership experience in biologics and small molecules. He has worked on several biosimilar pipelines and products.  In his previous role at Merck, he was involved in the divesture of four biosimilars from Merck to Fresenius Kabi. Notably, he also led Mavenclad, a prescription medicine used to treat relapsing forms of multiple sclerosis (MS), through FDA approval despite prior failings. In an earlier role at Novartis, he led health authority inspections for several launch molecules, including Entresto and Cosentyx.
In his new position as Chief Quality Officer at Biocon, Michael will be responsible for global quality strategy development, implementation, and leadership. He joins the Executive Leadership Team, reporting to Shreehas Tambe, Deputy CEO.
Poppy Moore, Senior Consultant at The RSA Group, commented, "Michael's impressive track record of quality management in multinational pharmaceutical environments, together with his expert knowledge of global biologics manufacturing, make him an excellent candidate for this position. I wish him all the best in his new role."
ENDS
For further information, contact: 
Sandy Chadwick
Head of Global Marketing, The RSA Group
E:   Sandy.Chadwick@theRSAgroup.com
Notes to Editors
About The RSA Group
Founded in 1981, we are the pre-eminent global executive search firm in Life Sciences and Healthcare. We provide a unique combination of Executive Search and Executive Interims from Director to Board Level.  In addition to supporting clients with market due diligence, competitor benchmarking, and brand perception surveys, we also review organisations as part of our People & Organisation Advisory and recommend the best options for evolution across organisational design, talent acquisition, development, and succession planning. With offices globally, we offer clients and candidates alike our in-depth knowledge and understanding of the life sciences industry, as well as first class project execution.  To learn more about The RSA Group, visit www.theRSAgroup.com.