Placement | Hansa Biopharma appoints Isabelle Delabaye as Medical Director, EMEA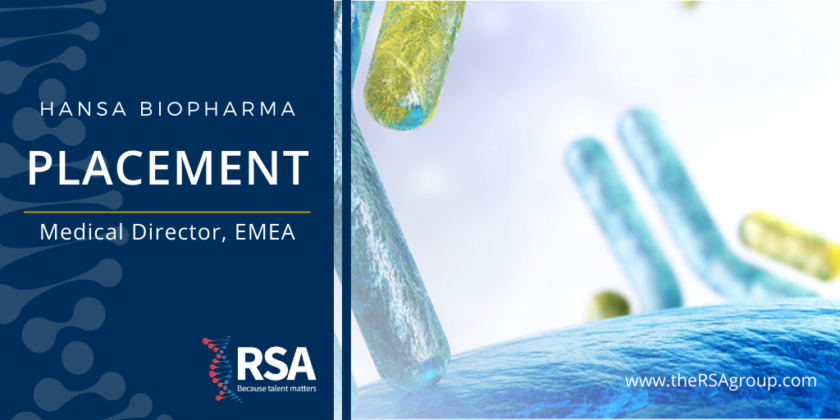 Following a successful search, The RSA Group is pleased to announce the placement of Dr. Isabelle Delabaye as Medical Director, EMEA, at Hansa Biopharma, a biopharmaceutical company developing novel immune-modulatory enzymes for transplantation and acute autoimmune diseases.
Dr. Isabelle Delabaye is an experienced Medical Director with a demonstrated history of working in the pharmaceuticals industry. She is skilled in oncology, immunology, haematology, nephrology, neurology, clinical research and good clinical practice (GCP), pharmacovigilance and medical affairs. She holds a master's degree in Medicine and a PhD in Pharmacology and Pharmaceutical Medicine from Pharmed Faculty ULB.
Isabelle has over 30 years' experience working in pharmaceuticals and oncology, working with healthcare giants including Pfizer, Roche, Novartis and Sanofi. Prior to joining Hansa she was Global Medical Affairs Director Neurology/Hematology (Rare Diseases) at UCB.
Thomas Schleimer, Managing Partner at The RSA Group, commented: "Isabelle has unrivalled experience in the sector and is ideally positioned to help Hansa Biopharma leverage its cutting-edge science to develop lifesaving therapies."
Dr. Isabelle Delabaye commented: "Hansa Biopharma is using its proprietary enzyme technology platform to address areas of significant unmet need and improve the lives of patients. I look forward to working with the Hansa team to further its mission."
Hansa Biopharma's lead project, imlifidase (IdeS), is a proprietary antibody degrading enzyme, currently in late-stage clinical development for kidney transplant patients, with significant potential for further development in other solid organ transplants and a wide range of acute autoimmune indications. The Company also has a strong pipeline of pre-clinical assets that may provide a second wave of potential drugs. Under the project name NiceR, novel immune-globulin cleaning enzymes are being developed for repeat dosing, translating the Hansa Biopharma technology for use in relapsing autoimmune diseases and potentially oncology.