Placement | The RSA Group completes successful search for ASLAN Pharmaceuticals – Dr. Neil Graham appointed as Independent Director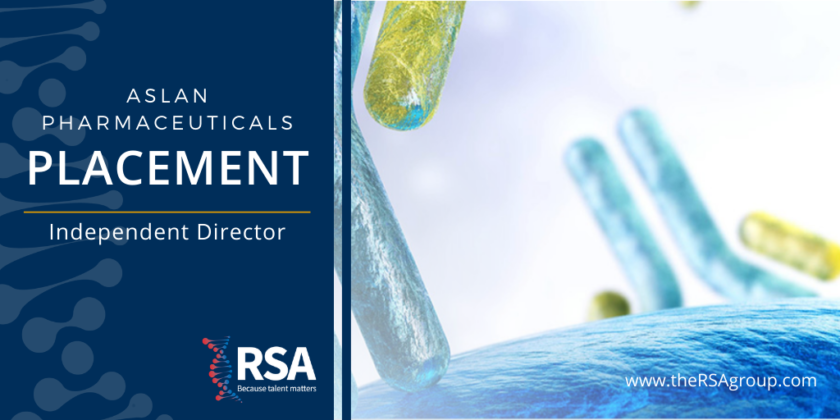 Following a successful search by its Morristown New Jersey office, The RSA Group is pleased to announce the placement of Neil Graham, MBBS, MD, MPH as an Independent Director at ASLAN Pharmaceuticals (Nasdaq:ASLN), a clinical-stage immunology focused biopharmaceutical company developing innovative treatments to transform the lives of patients. Dr Graham, an expert in immunology and inflammation, has more than 30 years' experience in global drug development and commercialisation, traversing early and late-stage clinical trials in dermatology, allergy, rheumatology, virology, and pulmonology.
Dr Graham is also Chief Medical Officer of Tiziana Life Sciences Plc and on the Board of Pharmaxis Ltd.
In his past career Dr. Graham occupied the position of Chief Operating Officer at XTL Biopharmaceuticals Ltd., VP-Strategic Program Direction & Immunology at Regeneron Pharmaceuticals, Inc., Senior Vice President-Program & Portfolio at Vertex, Inc., Chief Development Officer at Evelo Biosciences, Inc., SVP-Program & Portfolio Management at Trimeris, Inc. and Associate Professor at Johns Hopkins Bloomberg School of Public Health. Neil Graham received a doctorate from the University of Adelaide.
Shawn O'Connor, Managing Partner, North America, commented "Our global network played an essential part in helping us to find the right leader for this role. Dr. Graham's global expertise in immunology and inflammation, along with his 30 years of strategic leadership will add significant value to ASLAN's Board of directors as the company approaches important milestones this year."