Placement | The RSA Group completes successful search for Fusion Antibodies – Dr Richard Jones appointed as Chief Executive Officer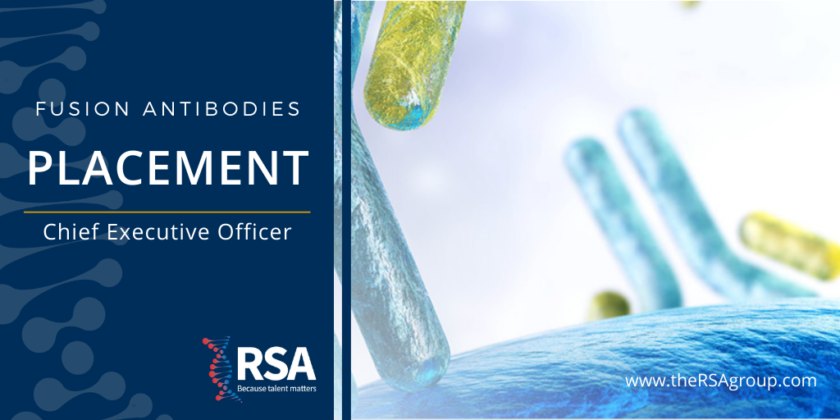 Following a successful search, The RSA Group is pleased to announce the placement of Dr Richard Jones as Chief Executive Officer at Fusion Antibodies, a Belfast-based CRO specialising in pre-clinical antibody discovery, engineering and supply for both therapeutic drug and diagnostic applications.
Dr Jones holds a PhD in Molecular Oncology and Signal Transduction and with a strong background across multiple therapy areas, Dr Jones is an accomplished life sciences executive with 25 years' experience in both pharmaceutical and biotech companies.  He has broad and extensive experience in business development, strategic alliances, M&A, early and late-stage clinical development and general management and was recently CEO of BrYet Limited, a start-up biotech specialising in nanotechnology. Prior to joining BrYet, Dr Jones served as SVP, Head of Europe for Akcea Therapeutic and CEO of Holostem Advanced Therapies and Akinion Pharmaceutical AB. Richard previously served at Novartis and GlaxoSmithKline's ("GSK") Global Oncology division, for GSK's Rare Diseases unit, for Genzyme's Global Oncology and Transplant business and as International Franchise Director for Shire Pharmaceuticals
Simon Douglas, chairman of Fusion Antibodies, said: "Richard joins us at an exciting time as we focus on the commercial roll out of OptiMAL, our Mammalian Antibody library and, in particular, on opportunities to grow the organisation across the global antibody landscape".
Mark Howard, Managing Partner, commented "Dr Jones' appointment follows a highly targeted search and this excellent outcome demonstrates The RSA Group's ability to engage the best candidates in their fields, despite the ongoing global pandemic".