Recognising and celebrating Extraordinary Connections at our 40th Anniversary Party
By Nick Stephens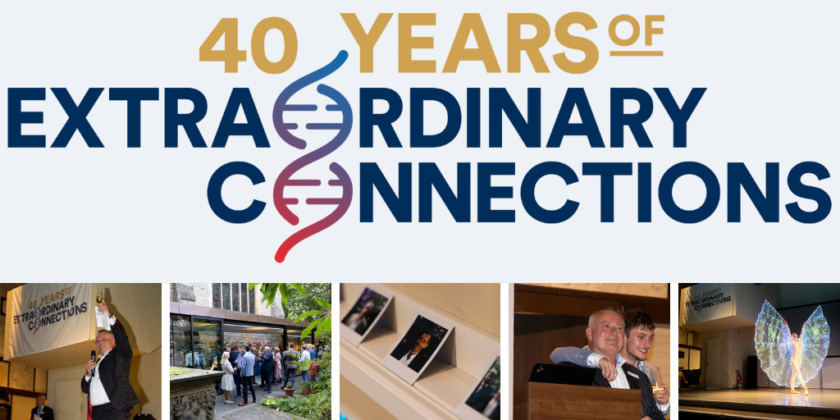 On Thursday 9th September, The RSA Group celebrated its 40-year anniversary with a special event at The Garden Museum in London. The venue was chosen specially to signify humble beginnings and new growth. The theme of the event, and one that we have celebrated throughout the year at RSA, was recognising and celebrating the Extraordinary Connections that we have been honoured to create and be part of over the past 40 years. We were delighted to see many of our network, including clients, candidates, and friends from the past four decades, face to face after all this time.
I'd like to share some of the words that I spoke on the evening so that I can thank all the people who make up our ecosystem of Extraordinary Connections, including those who weren't able to make it on the night.
40 years ago, my dad, Roger Stephens, started Roger Stephens & Associates.  It was just him – the associates were my mum, me and the family cats. He benefitted enormously from the wholehearted and enduring support of my mum, Edna, and from a select group of people we called the "godfathers" – not as ominous as it sounds; they were our foundation clients.
We created our first Board of Directors who helped guide me through the next few years. One member – Graham Kilbey still sits on our Board today. The other members were Prof. John Goldsmith and Chris Morley. My thanks go out to all our Non-Executive Directors who have supported the company and its executive through good times and bad.
There was no such thing as a typical RSA person then, and now with offices on three continents, there is still no such thing.
That's one of the things that make us special – we're diverse, we're inclusive, and we're all still passionate about some important things, including:
Helping to bring new therapeutics to patients
Treating everyone (Candidates, Clients, Colleagues, and the suppliers with whom we do business) with the respect and care they deserve
Being described as "Professional AND friendly"
Extraordinary Connections
There are so many high points to remember, but some stand-outs include:
Being there at the dawn of the Biotech Industry; building the first Board for Cambridge Antibody Technology (the briefing with Greg Winter was a life-changing experience for Dr Mike Hall)
Creating the UK market for Interim Managers
Dad being awarded Honorary membership of the Faculty of Pharmaceutical Medicine
Having the first (and possibly still the only) ever "virtual royal opening" of a business in the USA
Placing both Chris Witty and Jonathan Van Tam (though not in their current roles, I must admit)
And many many more
There's never been a year where the contribution of the life sciences industry has been more important. There's never been a year when we and everybody in our ecosystem could have more impact, and there's never been a year when it's been more challenging to succeed as a team.
RSA has earned its place in the global life sciences ecosystem. Together with our extraordinary connections, we've helped to build successful endeavours on every continent except Antarctica, we've helped clients to find thousands of people, we've built hundreds of new companies' boards and leadership teams, and we've made a small contribution to the health of billions of people.
I'm proud of our company and what we've achieved, and I couldn't be prouder of our team who not only weathered COVID-19, but who made us stronger through it. Thanks Team.
I just can't wait to see what the next 40 years will hold for RSA and for the extraordinary clients and candidates we work with.
But before then, may I ask that you all raise a virtual glass "To RSA, Happy Birthday".
Find out more about our 40 year journey by visiting our 40th Wall of Fame – a showcase of the revolutionary impact that results from connecting innovative leaders and a celebration of the incredible people behind the growth and advancement of the life science and healthcare sectors around the world.