RSA 40th Anniversary Featured Story – Caroline Hardwicke
By Paul Duffy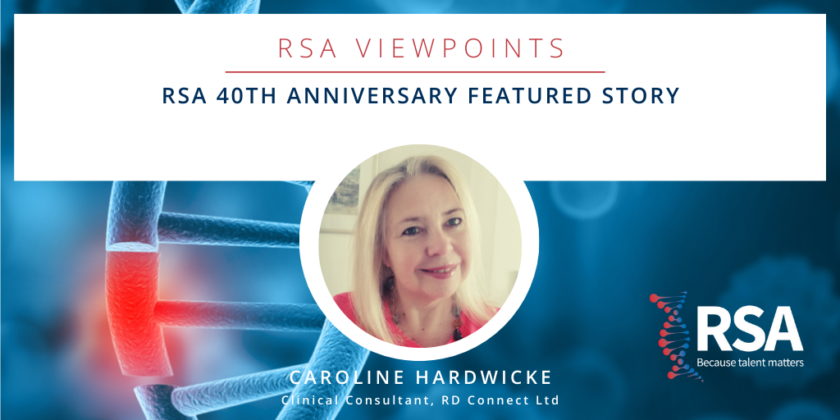 Caroline Hardwicke is a Clinical Development Consultant with over 35 years' experience across the spectrum of clinical roles in all aspects of Phases I-IV clinical development.
Caroline has had huge impact upon the drug development industry. During her career, she has led or been involved with clinical studies that resulted in the FDA/EMA registration of vital products, masterminded the successful submission of a blockbuster drug to the Australian PBAC, published the first edition of regional antibiotic guidelines and led a multi-disciplinary (pre-clinical and clinical) project team that resulted in IND or MAA submissions with one product and involvement in successful EU/FDA registration of products. We first had the pleasure of meeting Caroline back in 1988 when our founder Roger Stephens (Steve) placed an advert in the New Scientist for a position at Synthélabo (which merged with Sanofi in 1999). We later placed Caroline as an Executive Interim, and she has since partnered with us to find candidates for her own teams. We are honoured to have stayed connected with Caroline over the years and were delighted that she agreed to share her story with us. This is a great read, especially for those who have an interest in leadership in the sometime-complex world of clinical development.
Starting a Life Science career in Australia and discovering the world of clinical studies
At the start of my career, I was in Australia. My undergrad degree was in Pharmacy and my registration year in retail pharmacy took place in my hometown. Realising that retail pharmacy wasn't for me, I moved into hospital Pharmacy, which was a very lucky call because after 6 months I was encouraged to apply for a post as regional clinical pharmacist and did that for three and a half years. It was a big role for someone in their early 20's since the remit was to run the regional drug information service for health professionals, but I loved it. During that time, I also wrote the first regional antibiotic guidelines, lectured to nurses in specialist training and was involved in clinical research. It was a great opportunity to move close to the world of academia (the role was run out of the regional Clinical Pharmacology Unit) for someone who had an ordinary grad degree, and it showed me early on what is achievable if you accept opportunities as they come along.
Meeting The RSA Group for the first time
After moving to the UK, I worked at Beecham UK as a CRA in my first industry role, and in 1988, saw a job advert placed by RSA in New Scientist. That's when I first came across The RSA Group and met Roger Stephens (Steve) who helped me to secure a role as Senior CRA with Synthélabo. Steve was good friends with the Medical Director (David Graham) at the time and Synthélabo was a good company that gave you autonomy in your work with supportive oversight. A brief (in the form of a study synopsis) would come from the Head Office in France, and part of my role was to write the protocol and design the CRF. Thereafter, aligned with the clear and efficient company SOPs, I was empowered to make the whole study happen. This gave oversight and experience of the whole clinical study process, which in my view, provides the breadth of experience needed to become an effective leader in this discipline. In more recent times, roles have become far more segmented and narrower, reducing the opportunity for the right level of experience and development to help them as they move up the ladder into more strategic and leadership type roles. I enjoy working in companies which embrace the true concept of empowerment and allow employees more fluidity to gain experience in different roles. That said, this requires good two-way communication to align delivery with the strategic plans.
Empowering your people gets results
In late 1994, I was offered an international project leader role in France. The company had designated six priority products in development and two leaders for each product, one creating and managing the medical strategy (marketing and development) and the other, my role, was product programme operations. This was a role with oversight and management of the whole drug development project and headed a matrix system covering pre-clinical, chemistry, toxicology, pharmacology, pharmacokinetics, regulatory, clinical operations and science, and project planning. It was a huge learning curve, but it was also in an environment where I felt passionate about the work. Because I was mandated to take the responsibility, that balance of trust and support motivated me and the team(s) to put the hours in, and when that happens, one gets results. Without empowerment by the company hierarchy, one cannot perform optimally, not feeling sufficiently autonomous to do the role or make recommendations as needed for other solutions outside one's remit.
Working in Paris pushed me to adapt culturally, brush up on the language and make sure communication was at an optimum (especially as the working language was French). I was blessed to have a great mentor who believed in me and, with his support, became Medical Director of six countries following the merger with Sanofi. One objective was to complete the accession of a potential blockbuster drug to the Australian reimbursement system. Close communication between the affiliate and head office was key to aligning mutual understanding of the process and documentation resulting in a successful outcome.
Leadership is not always about letting go of the detail
Something I learned during this process was the importance of what I call bridging, as applied to clin ops and clinical science. This is basic effective communication that starts with listening and understanding, which gives insight and enables the right questions. These are concepts we hear a lot about in the world of sales, but are skills vital across every aspect of business, and life. I also discovered the usefulness of having broad experience, since having the knowledge and insights based on previous experience enables the right questions to be asked in both directions (i.e. to follow the development plan but also to check back to ensure the steps in place do follow the intended path). As people grow into leadership roles, they tend to let go of the detail, which is necessary in some respects, as focusing too much on detail can sometimes overshadow the bigger picture. But in certain instances, having a grasp and appreciation of the detail helps to avoid potential issues. Everything that I have ever seen go wrong in industry was because detail was not addressed.
The concept of siloed thinking is killing progress
As an interim, how you 'fit' can make or break your experience, and your success. Much of this comes down to how well briefed you are, and how ongoing communication is handled. You can go some way to influencing this by setting a clear process of effective communication at the start. Trust must be built in a short space of time, so communication, transparency and clarity are essential.
Prior to IR35, Executive Interims were more integrated into company culture. They were invited to company events, included in the culture, and made to feel part of the team. In the UK, IR35 has made that harder, and probably to the detriment of the projects because the interactions become more structured and have limits placed on them. It is harder to facilitate true creative thinking and innovation if leaders allow the dark shadow of siloed thinking to settle. Moreover, when the thinking is executed, if metrics are not done properly in clin ops, you are just ticking boxes for the sake of it, and the exercise means little. It seems to me that company leaders need to bear in mind that siloed thinking will impede development of their people as well as progress of their projects.
Empowered organisations get results
The leaders I have met recognise that people develop in different ways and have varying motivations and needs. I am constantly looking for ways to grow and learn more and have found that much easier to do in organisations that empower their people. Not only is it a great way to retain top talent and knowledge within an organisation, but it also provides both permanent and interim staff with the resources, authority, and motivation to deliver the best results for the projects.
Click here to explore our 40th anniversary Wall of Fame