RSA People | British Science Week interview with Nimra Butt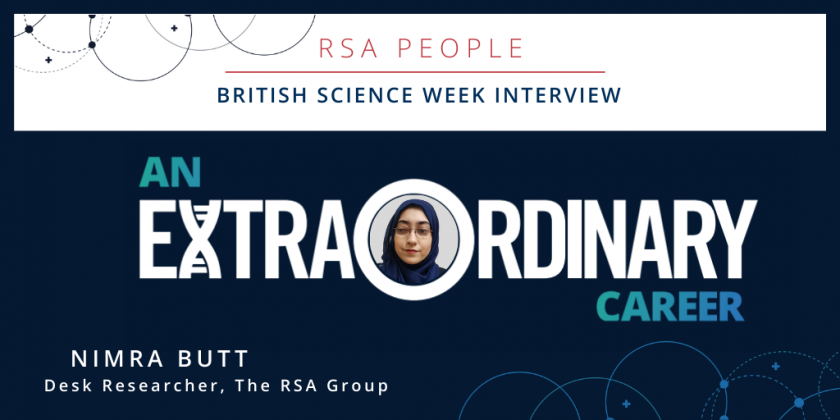 Nimra joined us as part of the Kickstart Internship Scheme and is a valued member of our Talent Acquisition Team. A recent Master's Graduate in Clinical Neuroscience, Nimra graduated from UCL with merit, after obtaining a 1st class Bachelor's Degree in Biomedical Sciences.
In this article, Nimra to talks to us about her passion for science, her career so far, and hopes for the future.
When did you know you had an interest in science?
I had an interest in science from an early age, my dad always expressed a wish for me to become a doctor. I already have an inherent interest in biology; wanting to understand the mechanisms of diseases helped me decide that this was what I wanted to do. Not as a clinician mind you, but as a research scientist. My dad plays an important role for me, helping to guide me with key career choices.
I realised very early on in my science career that you don't have to be a doctor to help cure disease and improve patient healthcare, researchers and scientists play a vital role in disease diagnosis and drug discovery. At the end of the day, both clinicians and researchers work towards improving the healthcare system.
What did you most enjoy in your master's programme?
The main groups of conditions I explored during my master's program included epilepsy, neurodegeneration, neurological malignancies, and psychiatric disorders. What I really enjoyed is looking at how different diseases progress and which neuro-biological pathways are affected as a result. The programme provided me with the exposure I needed to experience neuroscience from a translational and clinical prospective.  We had lectures delivered by world class neurologists! I enjoyed listening to them and researching the diseases on which they were working.
What excites you most about science?
Science is evidence-based medicine.  Whether an idea is proven or not,  it increases our understanding. Furthermore, science is constantly evolving; Every day we find out something new!  Science is hope for a better tomorrow, one in which we will know more about diseases like cancer. The more we know about how these diseases progress and what biochemical pathways are affected, the easier it becomes for industry research to develop treatment and therapies.
What are your career goals?
I went to an all-girls secondary school and sixth form; looking back, I am extremely proud because all my science teachers in sixth form were successful scientists. Each of them were inspirations to us. They encouraged us to pursue science as a career. My hope is to use my research skills developed over the years, combined with my knowledge of science, to help discover talent for leading pharma and biotech companies and help these businesses progress. Providing them with the best people will allow them to continue to make these incredible differences to people's lives. This drives me to learn and grow at pace so I can do the best job possible for RSA and our clients.
What do you most enjoy about working in science?
Working to towards building a better tomorrow. I admire the hard work of all those in the healthcare and life science sectors, especially in the time of COVID-19. It has been inspirational to see everyone come together, becoming an army. People from diverse backgrounds putting their strengths to use and bringing us all out of this pandemic. I feel proud to know and be so closely linked to such incredible people. Working in science is one of the most gratifying careers.
If you want to talk to Nimra or anyone in our team about #AnExtraOrdinaryCareer in Science, please contact us at HQ@theRSAgroup.com.