Successful Search | The RSA Group completes search for ReNeuron– Catherine Isted appointed as Chief Financial Officer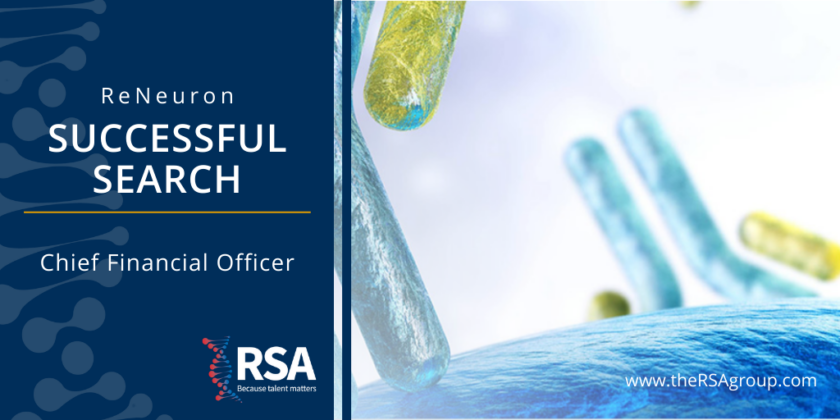 The RSA Group, a leading Life Sciences Executive Search firm, is pleased to announce the appointment of Catherine Isted as Chief Financial Officer at ReNeuron, a global leader in cell-based therapeutics that is developing novel stem cell therapies to target areas of significant unmet medical need.
Catherine Isted is a strategic finance professional and chartered accountant with more than 23 years of experience in the healthcare industry. She is currently part of the finance leadership team at FTSE250 biotech company Oxford Biomedica. Her previous experience includes 13 years at partner level in two leading healthcare banking teams, undertaking multiple Initial Public Offerings and follow-on fundraisings. Unusually for a finance professional, Ms Isted also has a background as a bench scientist, giving her a unique and well-rounded view on the healthcare industry.
Olav Hellebo, CEO at ReNeuron, commented: "We were looking for a dynamic financial professional to take ReNeuron's compelling story to a wider audience. Catherine has significant strategic and leadership experience, a deep understanding of healthcare markets and a strong network of financial contacts. Her expertise will be an asset to the company as we move into our next phase of growth."
Nick Stephens, Executive Chairman at The RSA Group, commented: "Ms Isted's successful appointment demonstrates The RSA Group's ability to engage top candidates with specialised skillsets to meet our clients' needs. She will bring a wealth of industry knowledge to ReNeuron's management team, and we wish her all the best in her new role."
ENDS
For further information, contact:
Sandy Chadwick
Head of Global Marketing, The RSA Group
E:   Sandy.Chadwick@theRSAgroup.com
Notes to Editors
About The RSA Group
The RSA Group is the pre-eminent executive search firm in global Life Sciences. Providing a unique combination of executive search and executive interims, we deliver results through data driven due diligence. Our Proof of Candidate®approach is based on evidence and in-depth comparative analysis, supporting clients to make better hiring decisions. Since 1981, our consultants have drawn on their wealth of executive search and industry experience to deliver a focused solution to our clients. Large enough to be global and small enough to remain local, we are where you are, with locations in the UK, USA, China, Germany, Singapore, Switzerland, and Turkey. To learn more about The RSA Group, visit www.thersagroup.com.