The RSA Group completes search for Clinigen Group – Sharon Curran appointed as Non-Executive Director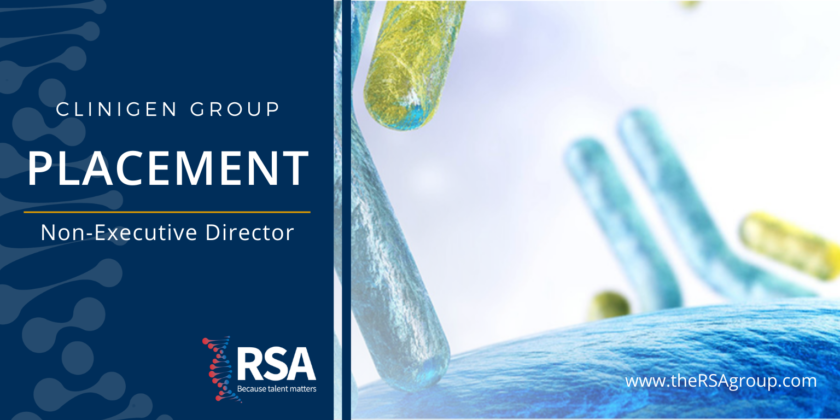 The RSA Group, a leading Life Sciences Executive Search firm, is delighted to announce the placement of Sharon Curran as a new independent Non-Executive Director at Clinigen Group, a global, specialist pharmaceutical services and products platform focused on providing ethical access to medicines.
Sharon holds an impressive track-record in the pharmaceutical sector. She is currently a Non-Executive Director for Circassia Group plc, Morphosys Plc. and Noden, prior to which she was VP, Global Marketing and Commercial Operations at AbbVie. During her career she has also worked as Global Brand and Regional Commercial Director at Abbott Pharmaceuticals and Divisional Head, Strategy & Operations (Ireland & UK Affiliate) for Eli Lilly.
Peter Allen, Chairman of Clinigen, said: "One area of focus for Clinigen over the past 12 months has been to bring new expertise onto the Board from industry and from other company boards. We are fortunate with Sharon that she has an equal measure of both. She has worked for multinational companies in the US and Europe, both in active executive positions as well as senior advisory on ethics and compliance, portfolio strategy and global crisis management. She has gone on to develop a broad portfolio of non-executive director roles with a variety of European companies. She is a welcome addition to the Clinigen Board, and we look forward to her joining in April."
Nick Stephens, Executive Chairman at The RSA Group, commented: "Clinigen was looking for a highly experienced, versatile and committed candidate to join its board. This required a targeted search of leading talent in the sector. We are delighted to have been able to secure such a suitable candidate, highlighting the skill of our team and the value of our unique networks."