The RSA Group completes successful search for Clinigen – Elmar Schnee appointed as Non-Executive Director and Chairman Designate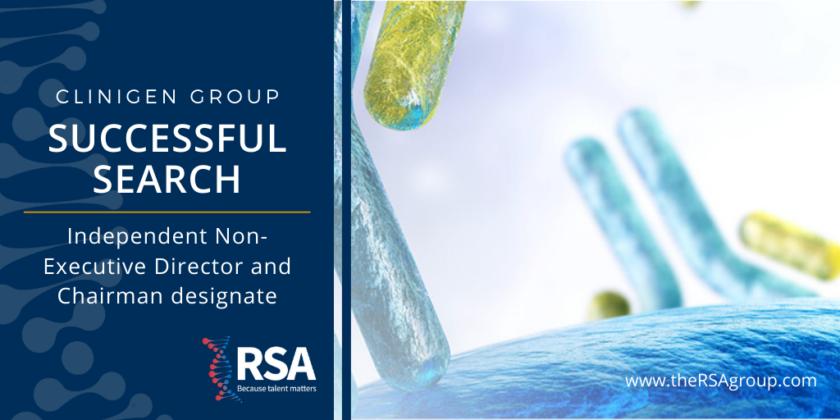 The RSA Group, a leading Life Sciences Executive Search firm, is pleased to announce the appointment of Elmar Schnee as Independent Non-Executive Director and Chairman designate at Clinigen, a global, specialist pharmaceutical and services company with a combination of businesses that focus on providing access to medicines to improve the quality of people's lives around the world.
Elmar Schnee has more than 30 years' experience in the international pharmaceutical industry, having held senior leadership and board positions across multiple pharmaceutical product and service companies. Most recently, he served as a Board member at Jazz Pharmaceuticals from 2014 to 2021. Prior to this he held a number of senior roles, including General Partner and Member of the Executive Board at Merck KGaA and CEO at Merck Serono, where he led the successful acquisition of Serono by Merck KGaA. Mr Schnee has also held senior global management positions with UCB and Sanofi.
Shaun Chilton, Chief Executive Officer of Clinigen, commented: "We are delighted to welcome Elmar to Clinigen's board. Elmar brings with him a huge amount of knowledge and experience across Services and Products businesses and will provide a fresh approach to our governance and leadership."
Nick Stephens, Executive Chairman at The RSA Group, commented: "Clinigen was looking for a candidate with a strong background in global executive strategic pharmaceutical management and significant international board experience to support the management team with the next phase of Clinigen's growth and development. Using our global talent networks and specialist industry knowledge, our team performed a highly targeted search. Mr Schnee's successful appointment demonstrates The RSA Group's continued ability to engage top talent in the sector."
ENDS
For further information, contact:
Sandy Chadwick
Head of Global Marketing, The RSA Group
E:   Sandy.Chadwick@theRSAgroup.com
Notes to Editors
About The RSA Group
The RSA Group is the pre-eminent executive search firm in global Life Sciences. Providing a unique combination of executive search and executive interims, we deliver results through data driven due diligence. Our Proof of Candidate®approach is based on evidence and in-depth comparative analysis, supporting clients to make better hiring decisions. Since 1981, our consultants have drawn on their wealth of executive search and industry experience to deliver a focused solution to our clients. Large enough to be global and small enough to remain local, we are where you are, with locations in the UK, USA, China, Germany, Singapore, Switzerland, and Turkey. To learn more about The RSA Group, visit www.thersagroup.com.