Identifying, attracting, and retaining top talent in the biosimilars space
By Poppy Moore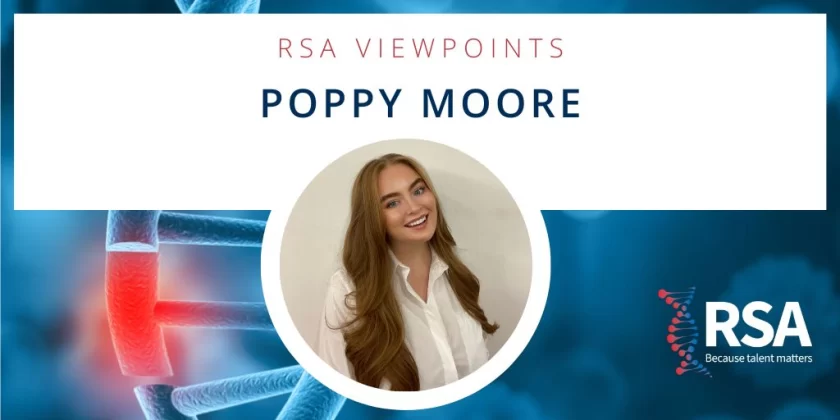 In May 2022, we launched our latest Talent Equity Report on the challenges and opportunities in the Biosimilars sector, based on interviews with several inspiring leaders in the industry. In November, we were proud to be the Global Talent Partner for the 14th Biosimilars Congress in London, where we spent an enriching two days listening to and networking with peers and experts in the sector. As we reflect on the trials and successes of the biosimilars industry over last year and look ahead to the future, I want to share our key learnings on how to identify, attract, and retain talent in this unique market.
A sector of opportunity
The biosimilars market is a new sector emerging from the success of the biologics industry. According to AMGEN's 2022 Biosimilars Trends Report, published in October 2022, there were 39 biosimilars approved for use in the US. As of July 2022, 73 biosimilars were approved for use in European markets. This number is rapidly expanding and there are dozens of biosimilars progressing through regulatory pipelines.
The sector offers significant economic opportunities; the biosimilars market reached $13 billion in 2021 and is expected to reach over $60 billion by 2027. With an increasing number of originator molecules coming off patent, investment into the sector is showing no sign of slowing, and many companies are pivoting into this space.
However, despite these opportunities, many leaders underestimate the cost, structure and talent needed to successfully operate in this space. Organisations entering the sector need to be prepared to change their mindset and adopt a specialist approach. In this blog, I will explore the crucial leadership qualities needed to succeed in the biosimilars market.
Identifying successful leaders
Biosimilars operate in a tougher and more competitive commercial environment compared to big pharma. This requires a novel approach from leaders, demanding the ability to drive efficiency, get things done at pace and apply lean thinking in order to navigate a market with lower profit margins.
Successful biosimilars leaders must also be expert relationship builders, with enormous sensitivity to both corporate culture and geographic culture. They need excellent emotional intelligence to be able to understand the wide range of different motivations and barriers faced by individuals on their teams. If that doesn't happen, you risk high attrition rates and demotivated teams.
Leaders will need good people skills to be able to ensure that their teams can convince regulatory authorities to approve their biosimilars and convince patients to swap from the branded originator drug to a new biosimilar. Empathetic leaders are needed to become the company's face to the new patient market. It is through these trusted relationships that biosimilars will become more accepted and start to gain – and maybe even control – market share.
Attracting top talent
The most effective strategies to attract the best talent consist of two vital areas: where they are and what they want. For the biosimilars sector, there are three main pools to explore – current competitors, originator companies and talent from outside the box. The pandemic has forced businesses to be more creative about where to draw talent from, being open to parallel skills, or wider geographical areas in order to fill gaps. Many of our clients have shared that this has opened doors to a larger pool of talent, giving them more options and inevitably leading to more diverse teams.
While biosimilars companies may not be able to offer the same security and safety as working for big pharma, there may be better opportunities for talented leaders to really make an impact. The opportunity to transform the share price of a biosimilars organisation is huge. As such, the biosimilars market is likely to suit people whose motivation is less about security and novelty, and more focused on the opportunity to drive change and improve patient access to drugs.
When looking to attract top talent, it's also crucial to consider how your company is perceived by the type of leaders you want to attract – what are you saying to prospective employees and what makes you stand out? The war on talent has confirmed one thing, unless we think differently, it will become increasingly challenging to find the right leaders.
Talent retention
Once you've hired talented employees, the crucial question is how to create an environment where people don't want to leave?
To understand how your staff are feeling, you must be listening. This should be done in various ways from informal feedback through day-to-day interactions, formal and structured feedback through employee engagement surveys, data surrounding staff attrition rates, measurement of internal and external perception of your personal and company brand, and mindful analysis on the impact of the company culture.
Crucially, biosimilars are increasing access to life-changing medicines for patients who wouldn't otherwise be able to benefit from them. This core sense of purpose is a common thread that unites many talented individuals working in the biosimilars space. Organisations that imbibe this principle and centre their culture around doing good through innovation will surely nurture and retain the best talent.
If you want to talk more about this or any other related topic, please do contact me.