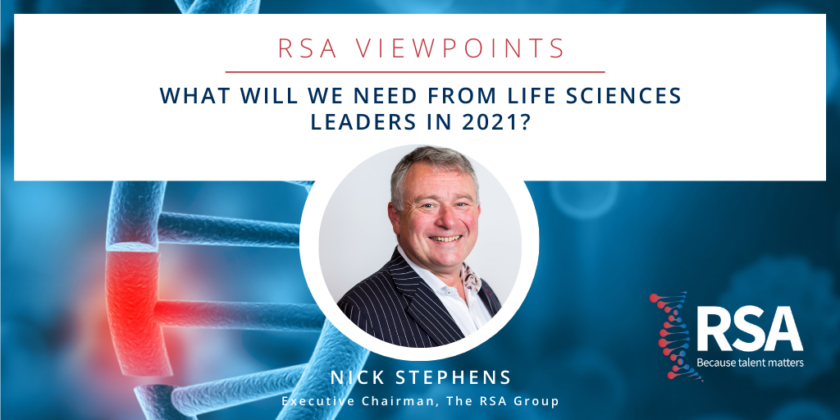 As a follow up to my recent blogs, I would like to share some further reflections about what Executive Leaders and Board members in Life Sciences organisations should think about as we look forward, with the help of vaccines, to a COVID-19 adapted world. The Life Sciences industry is in general very healthy with VCs being prepared to invest, solid data from Ph II-III clinical trials, IPOs at 2015 levels, solid Market Cap increases and MedTech benefitting from PPE and catching up on elective procedures.
Based on various meetings and 1-to-1 discussions with 100+ business leaders across Europe in the second half of this year, I can summarise my findings as follows: Life Sciences leaders will have to further develop a situation-based approach to leadership. More than half of the people I interviewed believe that we need to focus (even) more strongly on leaders' personality, including leading virtual teams, resilience, grit, mental toughness, hardiness and cultural fit. I believe we all need to reflect on our communication style and personality and be prepared to "act as fast as possible and as slowly as necessary" when the next game changer or crisis hits us.
A Covid-19 vaccine won't mean an immediate shift back to our former working patterns
So how should that affect the criteria applied when bringing in a new leader and how should they behave when they're on-board? Of course, a solid CEO is still a solid CEO, but they're going to have to adapt their communication style and to show strong(er) emotional intelligence (EI) if they're going to lead and manage their teams successfully. Informal leadership qualities will be important, and a high degree of humility and curiosity will be part of the equation. When people are working remotely for prolonged periods then every leader will need to be more sensitive to each person's behaviours. They will need to be more curious about how their people are feeling and what they are thinking so that they can accurately assess performance. This will mean taking the time to speak to their reports for longer and more directly, often about what is happening in their lives outside of work as well as their day-to-day duties. Understanding what really motivates people, dealing with anxiety and developing the ability to read people via a screen are new skills which are now more important for leaders. This sort of information flows more freely and informally in an office environment where people have numerous small interactions throughout the working day but with so many people at home, it will take a more concerted effort to be as well-informed as before.
A new approach and better preparation is required
Challenging conversations with team members will need even more careful preparation, thorough documentation and precise observational skills because so many of our usual and sometimes sub-conscious triggers, such as body language, are not available in video-calls. Listening, observing and being clear about what follows is especially critical when the person on the receiving end of a robust message is isolated as soon as the call is over. It's important to be more reflective and to avoid knee jerk reactions. Can you agree to disagree and have robust discussions through a screen? Yes, but it requires a new approach and better preparation.
What this really means is that we need inclusive leaders, people who are authentic, consistent in every situation and great communicators.
How does all of this affect the search and recruitment process?
To make sure that anyone joining your organisation meets this (new) standard, we need better psychometric analysis and deeper one-to-one interviews, ideally in person, not virtually, to test these kinds of qualities. Competence-based interviewing should be the norm but is insufficient, it's vital to go deeper into the personality behind the resumé, to ask more probing questions linked to communication, stress management, empathy, vulnerability and to understand the candidate's default mechanisms. The Candidate's Key Selection Criteria need to be broadened.
What are your thoughts on what sort of leadership the Life Sciences needs now? What abilities should a Search Consultant now focus on? I have an idea … self-awareness and active listening are back in vogue. EI and hardiness go hand in hand and correlate well, mostly to stress tolerance and to optimism as can be expected.
I'm happy to learn more about your thoughts and personal experiences so get in touch and let me know.