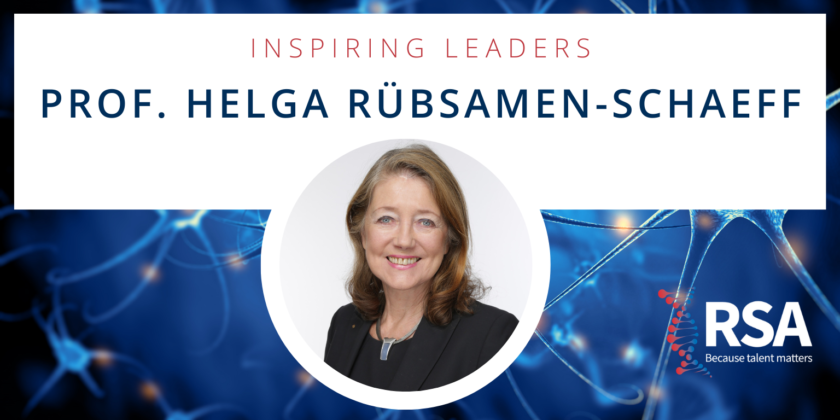 A chemist by training, Professor Helga Rübsamen-Schaeff started her career as Scientific and Executive Director of an academic institution, the Chemotherapeutical Research Institute Georg-Speyer-Haus in Frankfurt with a focus on cancer research and HIV. In 1994, she joined Bayer as Head of Virological Research and later as SVP, heading Bayer´s whole Infectious Disease Discovery.  In 2006 she founded the company AiCuris and lead it as CEO from 2006 until 2015. AiCuris Anti-Infective Cures GmbH is a German Biopharma company dedicated to the research and development of drugs against infectious diseases (viruses and multi-resistant bacteria). Presently, Prof. Rübsamen-Schaeff is the Chair of AiCuris´Advisory Board, a member of the Board of Partners of E. Merck KG and Chair of Merck´s Research Council as well as a member of the Supervisory Board of Merck KGaA and 4SC AG.  She also serves on the Scientific Panel on Health (SPH) for the Framework Program Horizon 2020 of the EU. She is a member of the National Academy of Sciences of Germany, Leopoldina. In this blog, Prof. Helga Rübsamen-Schaeff shares her life journey from school girl to Professor, important lessons learned and valuable advice for aspiring leaders.
Getting started in science
My all-girls school as a child was not science focused. Instead, it stressed the importance of the arts, philosophy and languages. So, when deciding on further education, I chose the subjects I had not been exposed to and took up chemistry. This was not an easy transition, but the basic science I studied at school, along with the encouragement of having an older sister studying physics, gave me a platform from which to leap.
I secured a place to study chemistry at the University of Münster and managed to win a stipend, allocated to only 1% of German students. While at the University I was able to branch out from classical chemistry and explore related fields. It was at this point, during a lecture, that I discovered how a cell becomes a cancer cell. This was a lightbulb moment for me – classical chemistry had given me the foundation, but cancer cells made me want to pursue a career in biochemistry, which I took up after finishing my chemistry diploma.
A fascination with medicine was not a new discovery for me, but this was the first time I saw a career path for myself in this space. When I was 14 years old, I got permission to volunteer at a local hospital on Sundays – I swapped Sunday church for Sundays at the hospital and learned everything I could about a huge variety of diseases. However, when it came down to it, I doubted whether I could pursue a career in medicine; I would never forgive myself if I made a mistake and hurt someone. So, I decided on chemistry, not knowing that this would eventually lead me back to medicine.
Identifying the medical need
I went on to do a postdoc in biochemistry, and then another, studying viruses which cause cancer. I had been researching the perfect model in which to study cancer at the Chemotherapeutical Research Institute Georg-Speyer-Haus in Frankfurt when Professor Brede, Managing Director of the Institute at the time, suggested I work on HIV as well as cancer. The virus had just become prevalent in Germany and people were desperate for answers. After some resistance – I had a full workload with the research I was undertaking into cancer – I agreed.
On his recommendation, I visited the university clinics of Frankfurt and asked the doctors and nurses fighting HIV what they needed to know about the virus. They told me that, in their opinion, this was not one virus; every patient presented differently. I took these insights back to the lab and, working with the first samples from patients, I saw very different growth properties of the viruses from different patients, leading to the genetic proof of the existence of very different HIV strains.
This experience taught me several important lessons: never underestimate my ability to handle more work, even if it is daunting, and to let medical need and questions from physicians guide my work. By talking to the people on the front line, you can help to ensure that your time and effort will have a beneficial impact.
I worked on HIV for a long time after this, patented the tests for the strains I had identified, and started working with big drug companies on treatments, including Hoechst and Bayer. During this time, I was asked to become Scientific and Managing Director of the Institute. I found my way and managed to grow the institute considerably, acquiring the necessary grant money as well as contracts with industry. I discovered that leadership suited me.
My career path
Having a career path implies a plan; this was not the case for me. I took opportunities as they came, worked hard and pushed forward. I kept my interest in medicine and science at the forefront and let this guide me, motivated by the desire to do good science and make a difference.
The same can be said for leadership – I never set out to be a leader and never saw this as my path when I was younger. I did however always follow the excellent advice given to me by my mother: stand on your own feet, guide your life yourself, and do not be dependent on others. This put me in very good stead for the journey ahead.
Always remember that you need to like your job to do your best work. That is not to say that the journey will then be easy, but it is a good starting point. When joining Bayer, the transition from an academic Institute Director, steering the whole institute, to Head of Antiviral Research, responsible for just one cog in the wheel in an international corporation, was anything but easy, but I loved it.
My time at Bayer was a huge learning experience and a springboard for my future career. However, it was at times a lonely place to be a woman with a young child. I wanted to spend time with my son, not at the pub with my colleagues. This, combined with the fact that I had not 'grown up there' and that Bayer was, and still is, male dominated, put me in the outer circle as the whole system was geared towards the Y chromosome. While there, the health team sent a reminder to Mr Professor Helga Rübsamen-Schaeff to get checked for prostate cancer, a cancer only found in men (and sent no apology after the fact!) This was somewhat symptomatic of a huge German enterprise, and although it is changing, we still have a long way to go to achieve gender equality.
What makes a leader?
A big part of being a leader is influencing others; motivating them to follow you in order to achieve a common goal. I believe that this is, largely, an innate skill and not easily learned, as is a desire to work with people. However, other key leadership skills, such as self-organisation and strategic thinking, can be practised and honed.
Analytical strength is also key; the ability to rationally analyse a situation, define the 'stepping stones' that will take you where you want to go and establish a clear path forward for you and your team. You also need to be able to assert yourself, especially in times of uncertainty. Spinning out a new company, AiCuris GmbH from Bayer was a time of great uncertainty for me and my team – new risks always are. I sat down with my team, included them in defining the 'stepping stones' for success and allocated responsibilities. In doing so I was able to capitalise on the skills of each team member and motivate them to believe in the plan. Mapping out these small steps also gives you milestones to celebrate along the way, which is key in keeping up morale – both the team's and your own.
It is worth noting that men and women, in my experience, approach risk slightly differently. Men tend to me more willing to take the leap than women; when spinning out AiCuris GmbH there were two particularly talented women whom I wanted to take with me, but neither wanted to take the risk.
Taking risks is key to being a leader; it is enjoyable, stressful and necessary. For me, risk management means planning, assessing the options, putting in place a strategy and always having a "plan B". A good leader will acknowledge a risk, recognise the inevitable trepidation, and put in place mechanisms that not only mitigate the fear, but make taking the risk enjoyable!
Women aspiring to leadership
Women can be excellent scientists, no doubt about it, and women can be excellent leaders. However, in my experience women do not like to take as many risks as men and do not seem to feel as comfortable or confident being leaders. They need a bit of a kick sometimes! My advice for women heading for leadership is to really go for it and to try not to let anything stand in your way (including both your own and external doubts). For those in a position to support budding female leaders, offer them as much encouragement as possible and facilitate them where you can. If their choice is to come back to work as soon as possible after having a baby, offer to provide them with a laptop so they can keep in touch while they are away.
I have never made a conscious effort to hire women over men, rather I aimed to hire the best people for the role, which usually ended up being a 50:50 gender split. Having an even balance of men and women, in my experience, builds the strongest teams and team culture.
Conclusion
Generally, as a leader, you can't lean on others, you have to lead and be the one that people look to for support. You also can never rest on your achievements but must look ahead to the next challenge. This can be lonely, but it is also incredibly rewarding, and with the right strategies and support networks, can be great fun!
Go after the opportunities that interest you, don't waste time pursuing a career that doesn't excite you, be proactive, meet as many people as you can and just go for it!
Follow our LinkedIn Page to keep up to date with the full Inspiring Leaders Series.