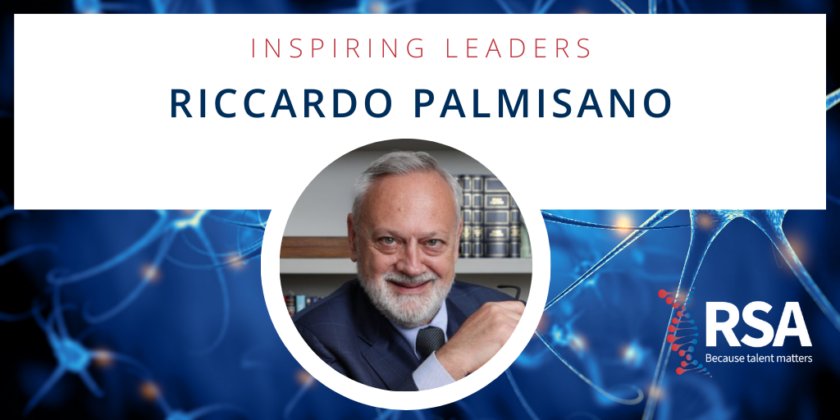 Riccardo Palmisano is the president of Assobiotec, the Italian Association for the Development of Biotechnology.
After graduating with a degree in medicine, Riccardo moved away from a conventional medical career path. He took his first job in commercial marketing with Farmitalia Carlo Erba, at that time the largest R&D pharmaceutical company in Italy. After broadening his skill set, also through training high potential young professionals at Bocconi University, he moved Menarini, an established Italian pharmaceutical company. After a rapid career in the parent company, he was appointed as General Manager of one of the Italian companies of the Menarini Group, Lusofarmaco, in 1995. Following a short additional period with Menarini's head office as head of all Italian operations, he moved to Shire (now part of Takeda), originally a small UK-based pharmaceutical company, at a crucial stage in its expansion into the four largest European markets and grew the Italian branch from scratch to become a market leader.
Riccardo has also had leading roles at high-profile pharmaceutical companies including GSK, where he served as vice president, Genzyme as VP, Managing Director and GM for Italy, and finally Molmed, as CEO of the listed cutting-edge cell & gene company. After an impressive 36 years in the industry, he currently sits on the board of multiple international biopharmaceutical organisations and is a highly respected board name in the biopharmaceutical industry.
Being the 'change driver'
I'd say I was always used by my companies as the 'change driver'. I think in all my experiences I enacted of some form of change.  For example, at Menarini, we moved from a pure sales organisation to become a real sales and marketing partner with high visibility, attracting recognition by the largest multinational companies such as GSK, Eli Lilly, Roche and many more.
With Shire, I'm proud to have accepted the challenge of starting a company from scratch and moving from Lusofarmaco, a company of 150, to one of 3 – me included. I had to start all the operations with little support from the UK branch because it was such a small international company. We created the base of an entire company.
I joined GSK after the company had experienced big changes in their top management. When I joined, GSK in Italy was ranked 17th out of 17 multinational companies, but after a big restructuring we moved from 17th to 1st in a year.
A life-saving medication for children
Genzyme was a very transformational company. When we launched a product to treat Pompe disease, we were able to save the lives of afflicted children who previously had no hope of surviving much over a year. With early diagnosis and our therapy, they are all alive today.
Furthermore, Italy now has the largest number of newborn screenings for rare diseases in Europe, and I'm proud to have been among the first to be talking about this topic and pushing for institutional changes in the country.
Be curious to learn from everything that surrounds you
What makes leaders become leaders? It's a mix between family, studies and education, and the company experience. The key point is to be curious to learn from everything that surrounds you, both in education and in professional life. For sure, each of us has a certain genetic predisposition, but it's experience that makes the difference. Having mentors was of key importance for me, both from inspirational leaders and previous managers. I learnt a lot from inspirational leaders, but also from former bosses who I observed and understood which leadership qualities to incorporate. Some of them have even given me the desire to not grow into them!
A medic in a marketing world
At the very beginning of my career, a medical education was a big advantage. In the marketing department, being able to understand not just the chemistry of the product, but also the clinical need and the expectations of the clinicians meant I was able to create the right communication tools for the products we launched. I had a great opportunity to expand my education by being exposed to different cultures. We had so many partnerships in Menarini, which allowed me to understand the different practices, methodologies and so on of many big multinational companies, and this was really important for my education and growth. Throughout my career, I've never stopped studying, and this has contributed to my professional development.
A father's influence
Who was most influential to me? Mainly my father. He wasn't a medical doctor; he was an engineer in an industrial company. He pushed me to pursue a commercial career, and he was right. Most importantly, he talked to me like a peer, giving me advice, and asking not just for my advice, but my opinion. He was definitely my mentor in terms of values.
My two main drivers are results and caring
I've had some time to consider my leadership style, and I'd say my main two drivers are results and caring. Many people are driven by learning and authority. I care about people in order to obtain results. It is vital to be a team player and team member before being a team leader. Richard de Souza, my boss at Shire, taught me the 4 Ps approach: Good products and the best possible people with simple processes can make performance. I made it my own and added two other "Ps", the most important to me: patients and passion. Lead in a passionate way and you'll work with passionate people. There are difficult situations such as the restructuring of companies where some colleagues are made redundant, but you can do that with the same level of care and compassion. People remain at the centre of my leadership style.
Leading by example
People, in general, are resistant to change – in many situations people don't understand the direction of change, the strategy, or they feel that they are are out of their comfort zone and less secure. I've seen a lot of so-called leaders defining the direction of change but not acting consistently. Acting on your words is one of the strongest way to obtain trust of your team.
Listen, Understand, Explain and Solve
There are two ways to listen. One is false and it consists of telling people they are important, and that you care about them without truly listening to them. The widely adopted leadership philosophy of "don't bring problems, bring solutions", is now antiquated and needs reconsidering and reshaping. Dismissing people's problems as 'false problems' does not lead to a sense of empathy within your team. By only bringing solutions the whole nature of the problem is reduced, creating "a culture of advocacy instead of one of enquiry" and causing problems to slip under the radar until they become a full-blown crisis. Moreover, this philosophy easily fosters a culture of intimidation and mistrust in management. Train your people to bring you problem statements instead of mere complaints or solutions with little context.  If they feel there is a problem, you must care about the problem. Listen, understand, explain, and solve. Give positive reinforcement and empower people to solve issues.
My advice to aspiring leaders
You are a good manager not only if your boss is happy with you, but if your peers and direct reports are as well. In the first half of my career, I defined potential based on my boss's view of me, but really it is the view of the rest of the team. It seems strange to say, but it can be easier to make your boss happy than your team. But if your team trust you and feel like they are learning something, you can lead them where you want.
You've got to strike the balance between leading and manipulating. Either way, you are pushing people to do what you are asking of them, but there is a big difference. Manipulation is in your own interest, even if it occasionally aligns with an interest of the company. Leading is being able to combine the interest of the company and of the whole team. I have never seen stable, sustainable results when the two interests are not aligned.
Follow our LinkedIn Page to keep up to date with the full Inspiring Leaders Series.