New study highlights talent needed to grow the biosimilars sector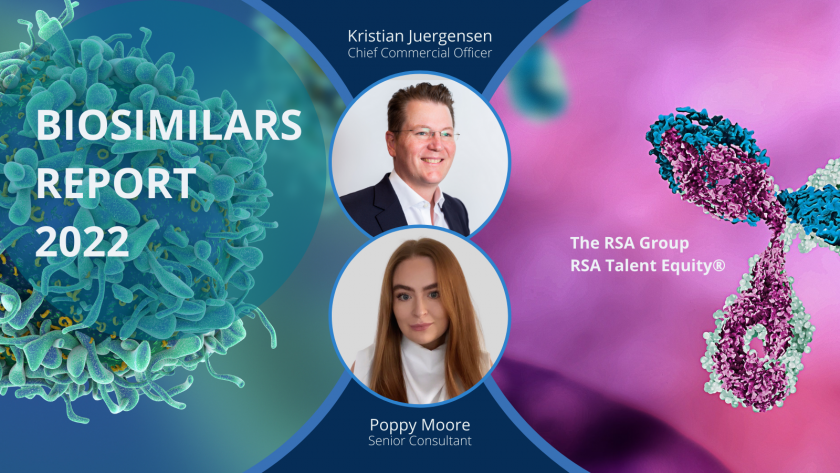 London, UK, 24th May 2022 / The RSA Group, a leading life sciences executive search firm, has published the latest of its Talent Equity® Reports: Biosimilars 2022. The new report features interviews with leaders of biosimilars companies who give their unique insights into the challenges and opportunities facing this fast-growing sector and the leadership needed to grow the industry, including the power of creating strong in-house knowledge and evaluating where this talent already exists.
Kristian Juergensen, Chief Commercial Officer at The RSA Group, explained that "There are already several large and established biosimilars players. As treatment becomes more diverse and patient care more personalised, cost- effectiveness matters more. This could close opportunities for some new players. The time to invest in biosimilars is now and that starts with your talent portfolio."
The report shows how as this industry expands and evolves, the leaders of today will drive the successes of tomorrow. The industry is seeing seismic shifts as pharmaceutical companies invest billions of dollars in acquisitions, mergers, and organic growth. New technologies are coming forward as academic and biotechnology companies innovate, and talent is emerging from both channels.
The investment in biosimilar development and production is causing a paradigm shift in the way that patients can access life-saving treatments. Although the main goal is to lower the costs of biologic treatments, the biosimilars market is bringing a host of additional benefits. By embracing technological breakthroughs and the benefits offered by biotech 4.0, biosimilar developers are not only delivering cost benefits through efficiencies and increased yields, but they are also offering new indications for greater market access, as well as more effective products with fewer side effects.
Recruiting and nurturing talent is incredibly important as biosimilars continue their rapid evolution and as more diverse and complex originator products are released and fall into the biosimilars pipeline. However, businesses choose to develop, manufacture, or sell their products, one thing is certain: Developers will need a core team of highly experienced and educated talent to ensure market growth and create the leaders of tomorrow.
Read the full report here.
-Ends-
For further information, contact:
The RSA Group
Sandy Chadwick, Head of Global Marketing
E: Sandy.Chadwick@theRSAGroup.com
T: +44 (0) 20 3818 8828
Sciad Communications, Media Relations
Richard Anderson / Sophie Protheroe
E: rsa@sciad.com
T: +44 (0)20 3405 7892
Notes for Editors
About The RSA Group
Founded in 1981, we are the pre-eminent global executive search firm in Life Sciences and Healthcare. We provide a unique combination of Executive Search and Executive Interims from Director to Board Level.  In addition to supporting clients with market due diligence, competitor benchmarking, and brand perception surveys, we also review organisations as part of our People & Organisation Advisory and recommend the best options for evolution across organisational design, talent acquisition, development, and succession planning. With offices globally, we offer clients and candidates alike our in-depth knowledge and understanding of the life sciences industry, as well as first class project execution.  To learn more about The RSA Group, visit www.theRSAgroup.com.