The RSA Group welcomes two new team members as part of its global expansion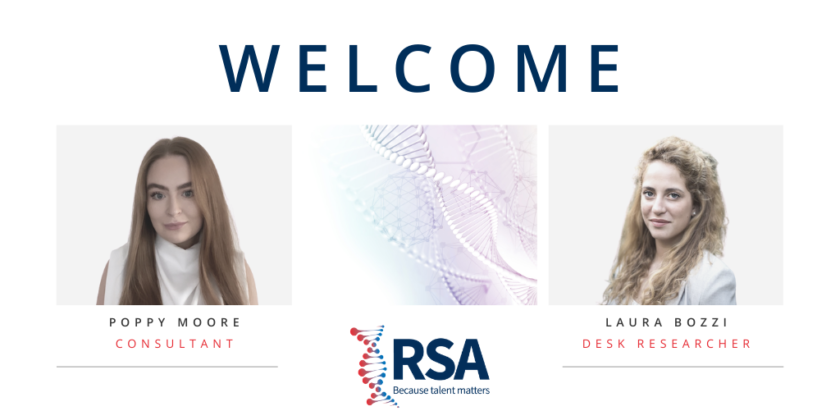 The RSA Group is delighted to welcome two new team members as part of its continued global expansion.
Poppy Moore joins our European team as Consultant and will be based in the UK. Prior to joining RSA, Poppy served as Principal Consultant at Mackenzie Stuart where she worked exclusively in the Scientific markets. Her focus was the technical side of the global Diagnostics sector of which she has extensive knowledge and connections to a vast network of industry leaders from established multinationals, pioneering SMEs and start-ups.
Laura Bozzi will be part of our ongoing internship programme as Desk Researcher and will be supporting the team with research and market intelligence as well as learning about all aspects of Executive Search.  Laura comes armed with an impressive First-class Hons in Business Management and Finance from the University of Westminster. With career experience in business development and finance, Laura is well placed to support RSA's global systems and processes using her eagle eye and strong attention to detail.
Kristian Juergensen, Chief Commercial Officer at The RSA Group, commented: "We're delighted to welcome both Poppy and Laura as part of our growing team. Despite the challenges of recent times, we continue our global expansion and maintain our support for young people emerging into the job market. Never has the life sciences sector been more important than it is now and it's in the interests of everyone, not least the patients we aim to serve, that business goes on. We look forward to seeing both Poppy and Laura play an integral role in supporting our clients as part of our passionate and dynamic team."
RSA has continued to support the learning & development of emerging talent since it began in 1981. The Life Sciences industry relies on the energy and innovative thinking young minds can bring, and our team at RSA enjoys welcoming new members of the team and helping them to grow. If you are interested in an internship or graduate placement with us, complete the form on our website here and we will get back to you.